Nanjing Area Map
Our Nanjing area map shows the developed area of Nanjing and the roads in the city. Click the map to enlarge it.
See our Nanjing Travel Guide for more information on Nanjing municipality and tourism in the area.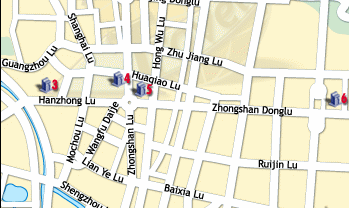 Questions and Answers About Nanjing Area Map
lynette
2012-10-29
Show Answer
HI LUSSIE , PLAN TO VISIT SILK REELING FACTORIES LOCATED IN JIANGSU 1. SHENGZE TOWN /WUJIANG CITY2. SUJIAN CITY3. FU''AN , DONGTAI 4. HAIAN5. DONGSHAN TOWN / JIANGNINGWHAT WILL BEST PLACE - HOTEL TO STAY / TRAVELLING TIME BY TAXI
Dear lynette, As the cities you mentioned are not tourism cities, there is no clients visiting there, so we don't have much information about there. I searched on line to find some hotels for reference. Wujiang: 1. Howard Johnson Jingsi Garden Resort Suzhou No.1555 Pangdong Road, Wujiang 2. Haiyatt Garden Hotel Wujiang No.1168 Yundong Road, Economic Development Zone, Wujiang 3. Jinjiang Inn (Wujiang Zhongshan North Road) No.310 Zhongshan North Road, Songling Town, Wujiang Dongtai: 1. Ying Hotel Dongtai No.99 Fangong North Road, Dongtai Haian: 1. Jinjiang Inn Hai'an Renmin West Road No.7 Renmin West Road, Hai'an County 2. GreenTree Inn Nantong Hai'an Pearl City Express Hotel No.7 Zhongba South Road, Hai'an Town, Hai'an County Dongshan: 1. Dongshan Hotel Qiyuan Road, Dongshan Town I suggest you search more details on this website:http://www.tripadvisor.com/ In general, from April to May and from September to October, it is comfortable to travel to China. Because this places are not too big cities, it is easy and not very expensive to take a taxi to get to the factories. Lussie Lu replied on 2012-10-30
Addis
2012-01-02
Show Answer
This week I am staying at Jingil hotel in Nanjing, so is there any shopping area nearby?
hello. I suggest you ask your hotel front desk for details. Thanks. guest replied on 2012-01-03
sugiannor
2011-10-31
Show Answer
i want going to nanjing, but i don't know about nanjing. cos i am from indonesia. how long nanjing from shanghai? n how about weather in nanjing?
Dear Sugiannor, It is about 305 km from Nanjing to Shanghai. There are so many trains can be taken. It takes about 2 hours. Please click here for the details about the trains:http://www.chinahighlights.com/china-trains/search-result.asp About the weather in Nanjing, please see the information on our website. Click here:http://www.chinahighlights.com/nanjing/weather.htm Lussie Lu replied on 2011-11-01
Renee
2011-08-20
Show Answer
How long does it take to get from the Ming Xioling (Ming Tomb) to Fuzimiao (Confuscian Temple)
Dear Renee, It is about 8km between two scenic spots. You'd better take a taxi. It takes about 25 minutes and it costs about CNY20-30(US$3-5). Lussie Lu replied on 2011-08-20
You might like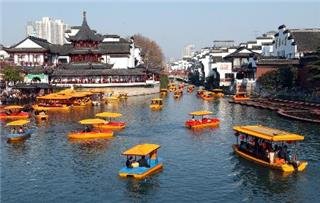 Free Things to Do in Nanjing

China Highlights
Nanjing Travel Guide