Nanjing Weather in August
August is one of the hottest months in Nanjing, and the extreme heat smothers the city. The maximum temperature is 32 °C (90 °F) and the minimum temperature is 24 °C (75 °F). Summer clothing is still suitable, but also bring a long-sleeve shirt for the coolness that the rains bring. When you go out, wear a hat and a pair of sunglass to protect yourself from the sun.
Despite Nanjing being called a "heating stove" (because of the extremely hot weather) during July and August the grasslands are growing, which helps ease the heat. Many tourists come to Nanjing for sightseeing during the hottest months so if you are planning to visit Nanjing in August, book in advance. Also see our Nanjing tours or have us tailor-make a tour to this city for you. See our Nanjing Tours.
Nanjing Climate Information by Month
Questions and Answers About Nanjing Weather in August
April Offer $25 Coupon
Send your inquiry before Apr. 30, 2014, and we will email you a $25 coupon.
The coupon is valid till Dec. 31, 2014, for paying tour packages worth $250 or up.
The coupon cannot be used for paying flight tickets, train tickets, hotel rooms and day trips.
Travel Advice or Question? Ask us here
You might like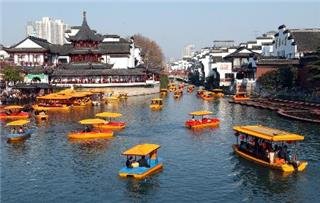 Free Things to Do in Nanjing

China Highlights
Nanjing Travel Guide