Nanjing Weather in February
February is a little warmer than January, with a maximum temperature of 9 °C (48 °F) and a minimum temperature of 1 °C (34 °F). The weather is still chilly and you should wear an overcoat and sweater to stay warm. Senior people need a down jacket and thermal underwear. February is a little more humid than January, the ultraviolet radiation is weaker, and the air is clean, making for a suitable environment for outdoor activities. If you go downtown to shop, remember your umbrella.
February is the season for plums in blossom. The International Plum Blossom Festival of Nanjing is the annual grand event held here for tourists. Every year during this period, hundreds of thousands of visitors come to Nanjing to enjoy the great plums in blossom.
Since the Spring Festival period falls at the end of this month or early to mid February, and the Plum Blossom Festival is in February, this month is very busy for travel. If you are planning to visit Nanjing in February, see our Nanjing tours or have us tailor-make a tour to Nanjing for you. See our Nanjing Tours.
Nanjing Climate Information by Month
Questions and Answers About Nanjing Weather in February
philip Lau
2014-01-12
Show Answer
please tell us more about the highlight of Plum festival, and is end Feb 2014 still can see the festival? I will decide on trip with you about knowing the timeing of the festival
Hi Philip, usually it starts in early or mid March and lasts for half a month, depends on the weather condition. If the weather is warm in end Feb., you may see the pulm in blossom then. Whitney Liao replied on 2014-01-14
You might like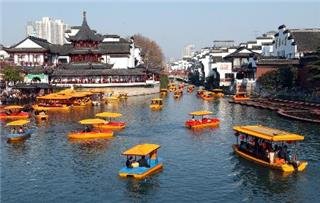 Free Things to Do in Nanjing

China Highlights
Nanjing Travel Guide