Nanjing Weather in January
January is the coldest month in Nanjing. The maximum temperature is 7 °C (45 °F) and the minimum temperature is –1 °C (30°F). It rains a little so the weather is rather cold and dry with wind of 4 to 5 (on a scale of 1 to 12). If you go outside, wear a down jacket or a fur coat to avoid catching a cold. Ultraviolet radiation is weak and you can go out without special skin protection. If you stay outdoors longer, wear sunscreen with SPF 8–12 to protect your skin.
January is a festive month in China. Chinese New Year (the Spring Festival) takes places at the end of this month or early to mid February. The festival brings many cultural activities to the streets. In addition to the Spring Festival, two traditional days are highlighted, the Jinlin Lantern Show and Pa Qiang Tou. From the 1st to the 18th of January in the Chinese lunar calendar, the Jinlin Lantern Show is held in the Confucius Temple. People crowd to the temple to enjoy the lantern show. Pa Qiang Tou is an outdoor activity, and people usually climb to the top of the city wall (Zhong Hua Men) on January 16 in the Chinese lunar calendar. Pa Qiang Tou helps people get rid of illnesses and achieve peace and harmony.
Since the Spring Festival falls at the end of this month or in early to mid February, this is the busiest travel time all over the country and trains and flights are fully booked days before departure. If you are planning to visit Nanjing in January, see our Nanjing tours or have us tailor-make a tour to Nanjing for you. See our Nanjing Tours.
Nanjing Climate Information by Month
Questions and Answers About Nanjing Weather in January
April Offer $25 Coupon
Send your inquiry before Apr. 30, 2014, and we will email you a $25 coupon.
The coupon is valid till Dec. 31, 2014, for paying tour packages worth $250 or up.
The coupon cannot be used for paying flight tickets, train tickets, hotel rooms and day trips.
Travel Advice or Question? Ask us here
You might like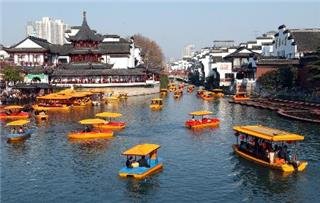 Free Things to Do in Nanjing

China Highlights
Nanjing Travel Guide