Beijing Sees Blue Skies Again
Updated: February 8, 2013 | Clicks: 1518
Beijing's air quality has returned to acceptable levels, and the weather has cleared up, with blue skies from February 1, after several days of hazy weather last month. (The right photo was taken on last Friday, February 1.) 
From February 1 to 5 Beijing's PM2.5 (fine particle) measurements were 50, 57, 199, 64, and 50. Measurements below 50 indicate excellent air quality.
Since February 1 a stream of cold air has arrived in Beijing, and a north wind of 12 mph (20 kph) has cleared up the haze.
Why did Beijing suffer from such severe hazy weather in January? "The main reasons are high humidity, weak winds in low-altitude areas, and inactive cold air," said by the director of Beijing Meteorological Institute.
In the following days most parts of China will see nice weather with warm sunshine. China will celebrate Spring Festival with sunny weather. Check out our China top 10 tours in 2013.
However, if you have health issues or feel Beijing is not an option, an alternative we would like to suggest is to make Hong Kong or Shanghai your gateway city. Check out our special report: See China Beyond Beijing and Xi'an.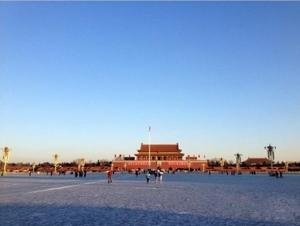 The Tian'anmen Square on February 1, 2013
Check out our newly-made video about Beijing air quality in recent days. 
Related Links
This Article was first posted by
Lynn Ye