Holiday Arrangement for China's National Day 2011
Updated: September 13, 2011 | Clicks: 2684
The National Day of the People's Republic of China is celebrated every year on October 1. This year, people in China can also enjoy a seven-day rest during the National Day holiday between October 1 and 7 as usual. (The right photo is the Temple of Heaven in Beijing.)
Holiday Arrangement
In fact, the National Day holiday is a three-day holiday: Saturday (October 1), Sunday (October 2) and Monday (October 3) are statutory holidays. Because two days of the holiday fall at the weekend, Tuesday (October 4) and Wednesday (October 5) are given in lieu. In order to extend the holiday, October 8 (Saturday) and 9 (Sunday) will be workdays, and October 6 and 7 will be included into the holidays. This arrangement produces a seven-day holiday (Saturday-Friday).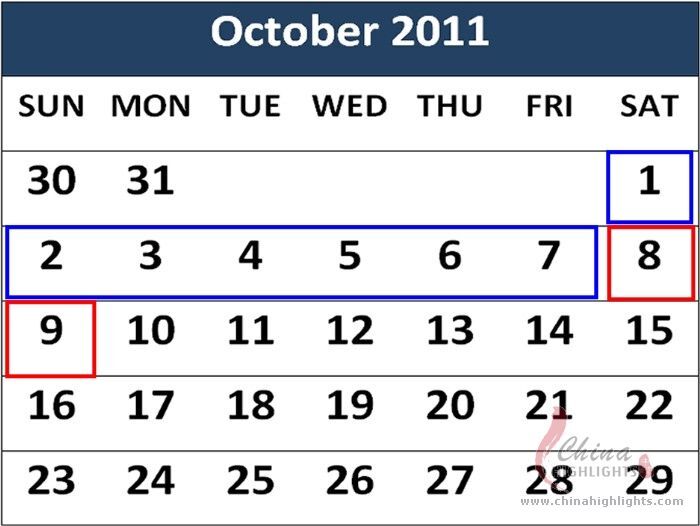 The Holiday Arrangement for China's National Day (holidays with blue marks, working days with red marks)
China Highlights' Announcement
China Highlights' office is scheduled to close for the National Day Holiday, from October 1 (Saturday) till 7 (Friday), 2011. Most of us will leave during the holiday, however, we still have some staff on duty to take care of the customers' bookings and tours. For emergency matters, please contact us by:
Email: service@chinahighlights.com or Tel: +86-773-2810927/2831999
Travel Tips
The National Day Holiday is a long leave as the Spring Festival Holiday, so it is a hot period for traveling in China, most hotels would raise the prices and the transportation would become a little bit crowed. October is the last month for visiting World Horticultural Expo 2011 in Xi'an. You can browse our well-designed Xi'an tours and China holiday tours or contact us to design your own China tours.
Related Links
This Article was first posted by
Lynn Ye