Guilin Karst is Now A World Heritage Site!
Updated: June 27, 2014 | Clicks: 294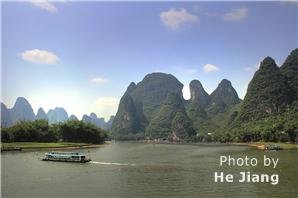 Following the successful inscription of the Silk Road and the Grand Canal to the World Heritage list, at the 38th Session of the World Heritage Committee on June 22, 2014, Guilin Karst was also listed as a World Heritage site on June 23, 2014.  
Three other Karst landscapes, Huanjiang Karst in the Guangxi Zhuang Autonomous Region, the Shi-bing Karst in Guizhou Province, and the Jin-fo-shan Karst in Chongqing Municipality were also enrolled.
These four karst landscapes, covering a total area of 1,186 square kilometers, are an extension of the South China Karst landscape, which was listed on the World Natural Heritage site in 2007.
This brings the total number of World Heritage Sites in China up to 47, and makes China the country with the second most World Heritage sites after Italy, which has 50 World Heritage sites.
Guilin Karst
Karst topography is a landscape created by the dissolution of layers of soluble, typically carbonate rock, such as limestone, dolomite, and gypsum. It is characterized by underground water systems with numerous caves, sinkholes and dolines.
South China is a major Karst area in the world described as "unrivalled in terms of the diversity of its karst features and landscapes" by UNESCO.  Guilin is a stunning example of Karst Topography in terms of its scale and uniqueness.
Guilin is one of the most popular tourist destinations in China on account of its beautiful landscape with dramatically shaped Karst hills, fantastic caves, and limpid water, attracting numerous visitors from all over the world.
One of the best ways to see the karst scenery of Guilin is to take a Li River Cruise.  The Li River is the most beautiful river in Guilin, passing across soul of Guilin's natural beauty.
Some of the famous Karst hills and caves in Guilin include Elephant Trunk Hill, Nine Horse Nine Fresco Hill, scenery on the 20 RMB Chinese bank note, Fubo Hill, Reed Flute Cave and Crown Cave.
Tour Guilin Karst with China Highlights
China Highlights has specialized in tailor-making China tours for over fifteen year. If you are interested in the beauty of Karst scenery, see our most popular Guilin tours which includes some famous karst hills and caves. Or contact us and let us design your own Guilin tour based on your requirements.
Related Tours
Related Links
This Article was first posted by
Annie Wu