Strong Earthquake Hits Ludian County in Yunnan on August 3th
Updated: August 5, 2014 | Clicks: 218
A magnitude-6.5 earthquake hit Ludian County of Zhaotong Prefecture, about 250 km (150 mi) north of Kunming, in northeast Yunnan Province at 4:30 pm on August 3, 2014. The earthquake has killed at least 398, and left over 1,800 injured, with 3 missing, toppling thousands of houses. Specific disaster statistics are still being collated.
Disaster Relief Measures
After the earthquake, transportation, electricity, and telecommunications were cut off in the county. China's government dispatched more than 2,500 troops to the disaster region. Thousands of tents, folding beds, quilts, and coats were sent to the region to aid those in the quake area. More rescue teams and relief materials are on the way.
China Highlights wants to express our sincere condolences and deepest sympathy to the families of the dead, the wounded, and the dispossessed in the earthquake. We hope more survivors will be rescued and the area will recover quickly.
Ludian and South China Travel
China Highlights suggests you cancel or delay any Ludian tour plans. It is not safe to travel in Ludian County presently, as the aftershocks continue and heavy rains are expected to hit the area in the coming days.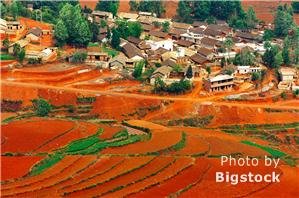 Dongchuan Red Lands
The closest major tourist attraction is the Dongchuan Red Lands, about 150 km (100 mi) south of Ludian. Tourism has been unaffected by the quake.
Likewise, major tourist areas of Kunming, Sichuan, and Guizhou have not been affected. If you are planning to tour South China, they are still good options. See our Kunming tours, Guiyang tours and Chengdu tours. Or contact us and we can design a tailor-made tour for you based on your requirements.
Related Links
This Article was first posted by
Annie Wu