A Dream Come True Beijing to Silk Road Overnight!
Updated: June 5, 2014 | Clicks: 318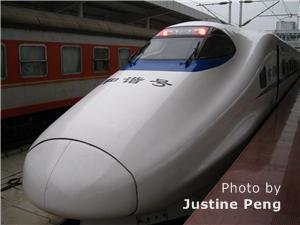 The Xinjiang section of the Lanzhou–Xinjiang Railway began its system integration test on June 3, 2014, which means that Xinjiang's first high–speed Railway is expected to open at the end of this year.
About Lanzhou–Xinjiang Railway
Lanzhou–Xinjiang Railway, also called Lanxin Second Railway, is a high-speed rail connecting Lanzhou in Gansu province and Urumqi in Xinjiang Uyghur Autonomous Region.
The 1,776-kilometer (1,104 miles) Lanzhou–Xinjiang Railway will run through 31 stations, of which 713 kilometers (443 miles) is in Xinjiang.
More Convenience for Silk Road Travel
With a designed speed of 250 kilometers per hour, Lanzhou–Xinjiang High–Speed Railway is expected to reduce the traveling time between Lanzhou and Urumqi from 16 hours to 9 hours. In addition the traveling time between Beijing and Urumqi will be shortened from 40 hours to 12 hours.  This will offer great convenience for tourists traveling between Lanzhou and Urumqi, and between Beijing and Urumqi.
Urumqi and Lanzhou are two of the most important stops on the Silk Road. The high-speed railway will make Silk Road tour easier!
Related Tours
China Highlights specializes in tailor-making China tours. Check out our well-designed China tour packages including China train travel tours, Urumqi tours, Lanzhou tours and Silk Road tour. Or contact us to design your own tour in China based on your requirements.
Related Links
This Article was first posted by
Annie Wu