American Writer Publishes His China Highlights Travel Experiences
Updated: February 24, 2014 | Clicks: 574
Tony Sampson, an American writer, traveled China with China Highlights from September 9 to 26, 2009.
The 18-day tour covered seven cities of China: Beijing, Xi'an, Xining, Lhasa, Shigatse, Chengdu, and Shanghai. The attractions he visited included the Great Wall of China, the Terracotta Warriors, Big Wild Goose Pagoda, Xi'an's Ancient City Wall, the Potala Palace, Sera Monastery, Jokhang Temple, Chengdu's Giant Panda Breeding Research Base, Wuhou Temple, Jinli Old Street, Yuyuan Garden and City God Temple
Tony was very satisfied with his trip, and appreciated all that we had arranged for him during the trip. When he went back to the U.S. his book "FROM CHINA TO TIBET AND BACK — Highlights of China" was how he recorded his wonderful travel experience in China. It was published on October 10, 2013.
About the Book
This book consists of ten parts covering cities and attractions in the order in which he visited them. In his book Tony tells readers why he chose China as his travel destination, and why he chose China Highlights' service. Each chapter presents his specific itineraries, attractions he visited, pictures he took, stories the guides shared, his feelings about the trip, even some practical suggestions for those who would like to travel in China.
Tony Sampson's book is available from Outskirts Press and Amazon.
Travel with China Highlights for Experiences Worth Publishing!
China Highlights, a division of CITS Guilin and a leading online travel operator in China, specializes in tailor-making China tours at great value for money. See our most popular China tours for a starting point. Or contact us to tailor-make your own unique tour based on your requirements.
Below are pictures from Tony Sampson.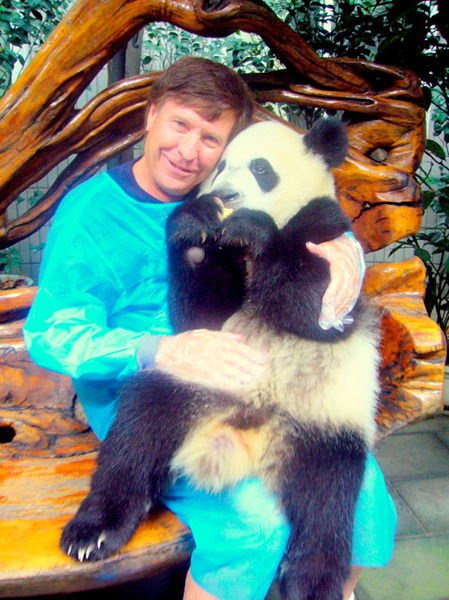 Tony Sampson is holding a panda in Chengdu's Giant Panda Breeding Research Base.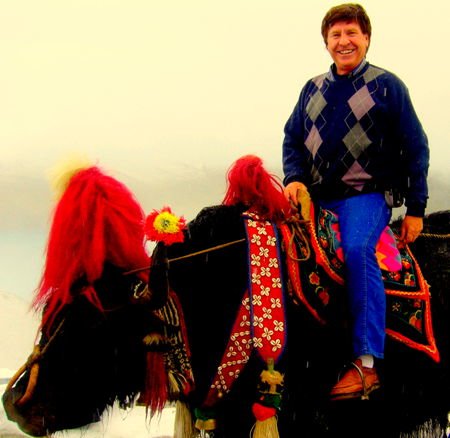 Tony Sampson is riding on a yak in Shigatse.
This Article was first posted by
Annie Wu