China Highlights Held Annual Lucky Draw 2010
Updated: December 20, 2010 | Clicks: 3769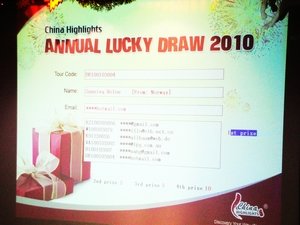 The annual lucky draw 2010 was successfully held in China Highlights office on December 20, 2010. Sixteen winners were made know after a stirring lucky draw at random. The lucky draw has four classes of awards, and the top winner will get up to 500 dollars. Newsletters will be immediately sent to these 16 winners by email, and China Highlights is expecting winners' prompt response with detailed contact information so that the cash prize can be delivered to them as soon as possible.
China Highlights pays lots of attention on what our customers' opinions towards our service, so as to make sure our services can catch up with our customers' needs. China Highlights' annual lucky draw is a mean of expressing our sincere gratitude to our customers, who have given us trust and support by booking tours with us and have helped us to improve our services by completing our evaluation or giving their precious suggestions.
Travel with China Highlights now and get the chance to be a winner in next year!
Following are the lucky winners:
| Prize | Name | Nationality | Tracking code |
| --- | --- | --- | --- |
| 1 | Sunniva Helen | Norway | DE100103004 |
| 2 | Lesley Jayne | United Kingdom | LEE100610028 |
| 2 | TinaCheng | Macau | W91204019 |
| 3 | 本間 健太郎 | Japan | JP09091111 |
| 3 | John | Australia | CI100330028 |
| 3 | MARIA DEL CARMEN | Spain | I100429003 |
| 4 | Joyce | United States | OY101021046 |
| 4 | 船越久美 | Japan | JP09120901 |
| 4 | Laura | China | N100112059 |
| 4 | Dietrich ERNST JOHANNES | Germany | K100312022 |
| 4 | CHRISTIAN | France | JE100128038 |
| 4 | DARYL LAURENCE | United Kingdom | T100105019 |
| 4 | 山田 良治 | Japan | JP09120808 |
| 4 | Marina | Spain | I91202020 |
| 4 | Alexander | Germany | X100705026 |
| 4 | Sundip | United Kingdom | CI100503023 |
Related Readings
This Article was first posted by
Lynn Ye