China Highlights Enjoys Team-Building Training at Lianhuadao
Updated: September 17, 2013 | Clicks: 582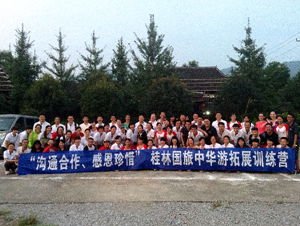 China Highlights held a team building training at Lianhuadao ('Lotus Island' 莲花岛), Lingui County, 30 kilometers north of Guilin City, on September 13, 2013.
Team Challenges
The staff of China Highlights were first divided into three teams, and each team was required to competitively finish three challenges: 'Many Hands Make Light Work' ("rescuing" a female team member from a no-enter circle using lengths of string), small group cooperation tangram puzzles, and giving a "high-participation" performance.
These tasks required insight and effective team work. All staff were enthusiastic, energetic, and very active to participate in these activities, and worked together to conquer the challenges.
All-Staff-Together Challenges
Over 60 staff together got over the 4.2-meter "Graduation Wall", but the most moving part of the training was the last task, which was held at night, called 'Life Journey in the Wind and Rain'.
All staff were not allowed to speak or make any noise, and were divided into two roles: the "dumb" and the "blind" (who were blindfolded). The "dumb" had to lead and protect the "blind" on a tough journey together in the dark night, including climbing a wall, crossing a river, walking through a rough stony forest, and crawling army-style under a low net.
Benefits of the Training
Everyone enjoyed the training greatly and benefited a lot. We learned the importance of cooperation and communication among a team. We also learned what we should cherish in our lives, and what we should be thankful to our parents, relatives, friends, colleagues, and society for.
The training has made our team more cohesive, and we will work in greater cooperation as we create high-quality China tours and provide high-quality service for our customers.

getting over the"Graduation Wall".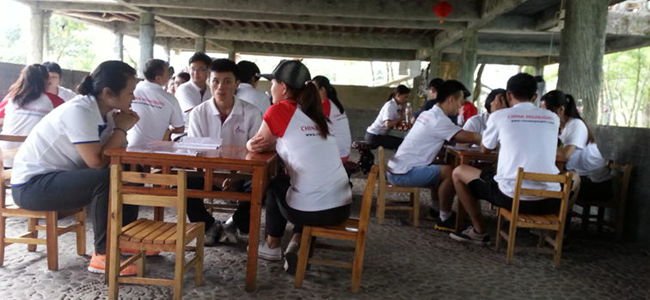 the small group cooperation tangram puzzles.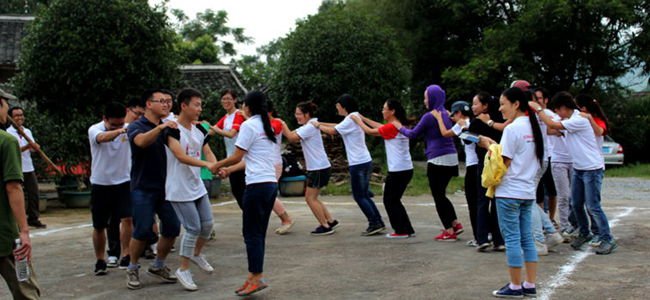 the staff of one group are giving a "Rabbit dancing" performance.
Related Links
This Article was first posted by
Annie Wu