China Highlights' Grand Design Meeting and Winter "Sport" Meeting
Updated: December 10, 2013 | Clicks: 668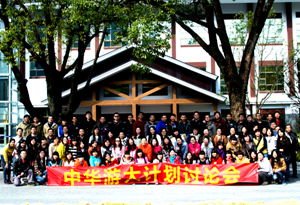 China Highlights held our Grand Design meeting and annual winter sports meeting in Guangxi Power Grid Co.'s Guilin Training Center last Friday, December 6, 2013.
Grand Designs
The communication of our grand designs started at about 9:00 am. Eight supervisors of China Highlights made speeches, which included summary reports for 2013's business, and plans for the company's development next year.
Many good ideas from staff members were shared, and many practical suggestions were put forward. Lastly Victor Shu, Director of China Highlights made a speech summarizing the grand design meeting.
"Sports" on a Sunny Guilin Winter's Day
The fun-filled China Highlights winter sports meeting began at about 2:00 pm.
It featured a series of "sports" including a tug of war, rope skipping (both for teams and individuals), playing a form of dodgeball with sandbags, "hula hooping", arm wrestling, darts, "aeroplane chess", blowing out candles, and stepping on balloons. All the items added their own type of fun to the sports meeting.
During the sport meeting China Highlights staff were passionately competitive and greatly enjoyed themselves!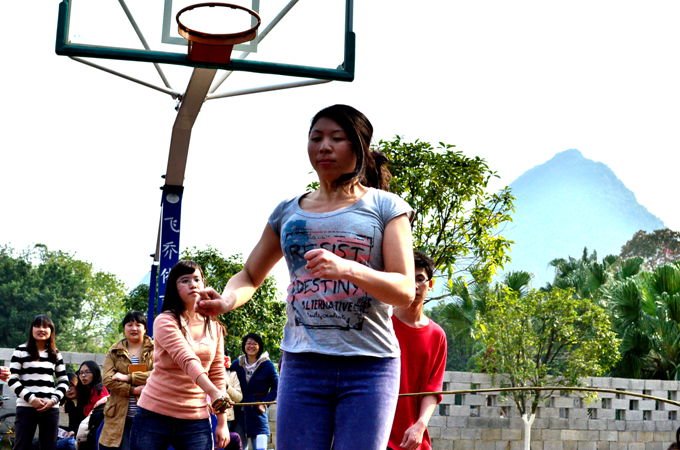 Lily Guo was skipping the role.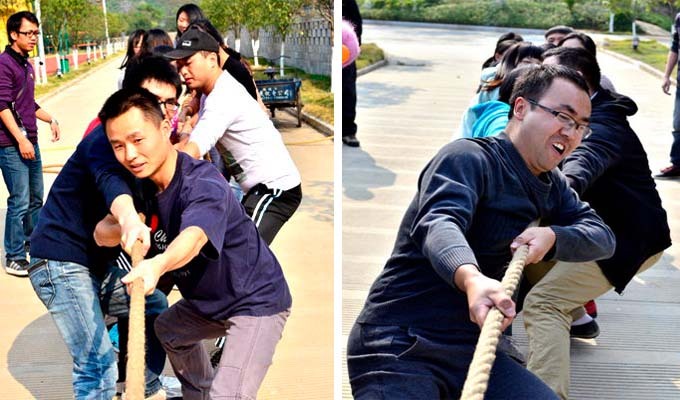 Two teams were pulling in the Tug of war.
Related Links