China Highlights Expresses Gratitude with Lucky Draw
Updated: April 25, 2013 | Clicks: 778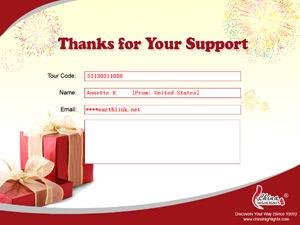 China Highlights held an unscheduled lucky draw on April 24, 2013. This lucky draw was a way of expressing our gratitude to our customers, who have given us support and trust and have helped us improve our services by completing our evaluation form in Travel Advisor Survey during the period between March 19 and April 19.
Annette R. from the United States was selected at random by computer as the lucky winner of a $50 Amazon voucher.
As China Highlights continues to improve our travel services and the creation of unique and unforgettable China tours, we greatly appreciate those who help us by providing input through our feedback forms.
Related Reading