China Highlights Holds Lucky Draw Promotion in July and August
Updated: August 7, 2013 | Clicks: 659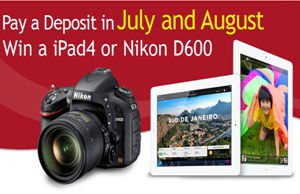 China Highlights is holding a promotion activity in July and August 2013 to express our gratitude to our customers. Two lucky draws have been scheduled for August and September.
The promotion is for all customers who have confirmed and paid a deposit for a tour in July and August. Customers have the chance to win a Nikon D600 camera or aniPad 4. There is only one camera available, so if the camera is chosen at the first draw, only the iPad will be available for the August draw prize.
The July bookings lucky draw was held on August 5, 2013. Dennis Luverne from the United States was picked out at random as the first lucky winner, and he has chosen his prize:  iPad 4. The prize will be presented when he arrives in China.
The next lucky draw will be held in September. The next lucky winner will be selected from the customers who pay a deposit for a tour in August to win the prize: Nikon D600 camera.  Book a tour with China Highlights now and you will have a chance to be the next winner.
China Highlights, a leading online travel platform since 1998, specializes in tailor-making China tours. We greatly appreciate all customers who choose us as their China travel agent. Our goal is to continuously improve our travel service, and to create unique and unforgettable China tours for our customers.
Related Reading
This Article was first posted by
Annie Wu