China Highlights Offers NEW Educational and Cross Cultural China Tour
Updated: December 26, 2013 | Clicks: 609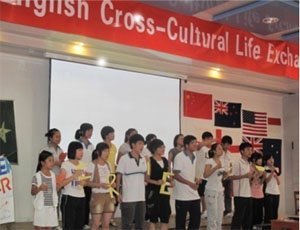 At the beginning of October 2013, we conducted a two-day educational and cross-cultural tour in Huanjiang Maonan Minority County, Hechi City, Guangxi Province. The New Zealand cultural exchange group gave us very positive feedback.
On the back of this success, and to provide another interesting and unforgettable tour option, China Highlights will soon be offering a new tour package — Educational and Cross-Cultural China Tour.  
About the Educational and Cross-Cultural Tour
The Educational and Cross-Cultural Tour will cater for groups of 6 or more (maximum 20), and will offer participants a taste and view of China that they will never forget.
Highlights of the Tour
The new tour package covers local minorities' villages, terraced rice fields, ancient towns, local middle/high schools, and the most popular attractions of Guilin, such as the Li River and Elephant Trunk Hill.
What You Can Experience
The Educational and Cross-Cultural Tour will take you into the heart of Guangxi Province, where you will spend a few days encountering and exploring:
Walk along the terraced rice fields, enjoying the panoramic views and taking photos as the sunset reflects in the tiered paddies.
Home-stay and introductions to different minority groups — learn about their lifestyles and cultures.
Pick tea leaves up in the tea plantations in a minority area — learn the art of tea processing.
Teach English at a middle/high school, and students will teach you Chinese calligraphy and how to make Chinese dumplings.
Take a bamboo raft ride in one of the most scenic areas in the world — the Li River. 
Walk around an ancient town and watch cormorant fishermen casting out their nets and birds at sunset.
Travel with China Highlights
If you want a holiday with a difference and are looking for an adventure away from the cities, then our Educational and Cross-Cultural Tour will be a fine option. Contact us and take this opportunity to come and explore the minority heartland of Guangxi Province.

Teaching English in a Middle School.

Watch and learn the art of making Oil tea for breakfast
Related Links