China Highlights Rewards Top Ten Guides with 5-Day Vietnam Tour
Updated: April 1, 2013 | Clicks: 993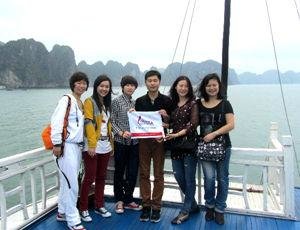 China Highlights rewarded its top ten guides with a 5-day tour of Vietnam for their excellent work in offering exceptional service to our customers in the past year.
This tour offered a platform for these outstanding guides to communicate with and learn from each other, enhanced their sense of belonging, and laid a good foundation for providing better guiding services to our customers in the future.
China Highlights Guides and Customer Service
China Highlights pays a lot of attention to our guides' training, aiming to provide ever-better service to our customers. In order to ensure China Highlights' customers' enjoyment of China, we take many measures to improve the quality of China Highlights' service, including rewarding outstanding tour guides.
The Vietnam Tour
The group was made up of fourteen people including Lisa (China Highlights' Customer Service Manager) and the guides. They departed Guilin on March 16, 2013 and returned happy on March 20, 2013.
During the trip all guides showed their satisfaction with this tour and expressed their gratitude to China Highlights. They said that they had learned a lot from each other. They also said they would work harder to provide the best service to our customers, and hoped to be rewarded with another wonderful trip again next year.
The main attractions of the 5-day Vietnam trip were: Halong Bay (one of the New7Wonders of Nature), Cat Ba Island, Ti Top Island, Thirty Six Streets, Ho Chi Minh's Mausoleum and Former Residence, Tran Quoc Pagoda, and West Lake.
China Highlights offers various Southeast Asia tours, including Vietnam tours. Check out our best-selling Laos, Vietnam and Cambodia tour.  
Further Reading