Guilin CITS Gained AAA Certificate of Enterprise Credit Grade
Updated: October 14, 2013 | Clicks: 599
Guilin China International Travel Service Limited (Guilin CITS) was given the highest rating of "AAA Certificate of Enterprise Credit Grade" ("AAA Certificate" for short) by the Internet Society of China in August 2013.
The evaluation of a company's Enterprise Credit Grade is according to four classes and ten levels: AAA, AA, A, BBB, BB, B, CCC, CC, C, and D. AAA is the highest credit given to an enterprise; D means a discredited enterprise.
The evaluation authority comprehensively analyzed and evaluated Guilin CITS according to the parameters of business capability, profitability, repaying capability, contractual capacity, development prospects, and enterprising service, and gave CITS Guilin huge affirmation on its credit scale.
About CITS Guilin and China Highlights
CITS Guilin is one of the regional branches of China International Travel Service Limited (CITS), which is China's largest and most influential travel related group founded in Beijing in 1954 as a state-owned enterprise.
The largest division of CITS Guilin is China Highlights, established in 1998. We specialize in customizing and tailor-making tours for individuals, families and groups, according to specific requirements at great value for money.
See China Highlights' well-designed China tour packages.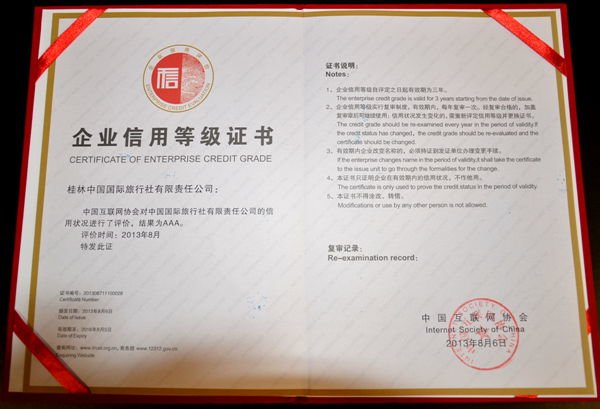 AAA-Grade Enterprise Credit Certificate.
Related Links
This Article was first posted by
Annie Wu