Mogao Grottoes Improves Protection AND Visitor Experience
Updated: August 11, 2014 | Clicks: 298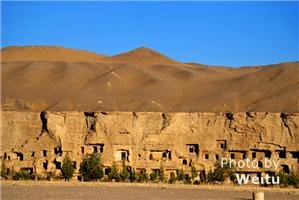 The Mogao Grottoes' management started implementing a new visiting model to protect the world famous ancient Buddhist artwork on August 1, 2014. Using a digital movie center and online booking has completely changed the Mogao Grottoes' visit process, visit model, and visit experience of the last 35 years.
The Digital Movie Center
Before entering the grottoes, visitors are shown two documentaries on the grottoes' history and culture in the digital movie center. The Mogao Grottoes were formerly introduced by guides in the caves, leading to competing noise levels, and long waiting times. This reduces visitors' time standing around in the caves, and outside, without taking away from the overall experience.
Online Appointments
Visitors to the Mogao Grottoes have to book a time online.
The online appointments trial period is from August 1 to September 10. It will be formally implemented from September 10, and only 6,000 visitors will be allowed to enter the grottoes each day. The time tourists are allowed to spend in the grottoes has also been shortened from 120 minutes to 75.
Though fewer tourists will get to see the grottoes as a result of these measures, crowding will be reduced greatly, leading to a better experience for those who come. Reduced noise vibrations, heat, and moisture from breathing will help preserve the Buddhist paintings and sculptures for future generations.
Visitors, who have made an appointment before the end of 2014, can enjoy a green (fast access) channel for visiting the grottoes, and get a free ticket (usually worth 200 yuan) to visit specially protected caves with valuable artistic works.
During the trial period, Dunhuang Academy still offers a limited number of tickets for visitors who have not booked online.
How to Make an Appointment
You can book via the online booking system, a telephone hotline, or SMS (Short Message Service), but we don't recommend it as the service is currently only available in Chinese. Individual visitors need to book 7 days in advance, and groups 15 days in advance.
If you want to avoid the trouble of booking by yourself, you can contact us and we can help you arrange this and anything else you need, like transport and a guide, as part of a Dunhuang tour.
See the Mogao Grottoes with China Highlights
China Highlights specializes in tailor-making China tours. If you are interested in visiting Dunhuang's Mogao Grottoes, see our most popular Essence of Dunhuang tour. See our Silk Road tours for a longer tour of the region. Or contact us and let us design your own unique tour based on your requirements.
Related Links
This Article was first posted by
Annie Wu