Xi'an to Become 3-Day-VISA-FREE!
Updated: April 16, 2014 | Clicks: 395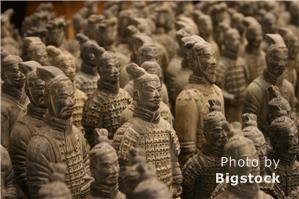 The State Council has approved Xi'an's 72-hour visa-free policy. Though all the preparatory work is under way, the specific implementation date is not yet approved by the Ministry of Public Security, but is expected to be in about two months time.
The Policy
Xi'an is to be the first city in Northwest China, but the ninth mainland China city, to allow transit passengers city-wide access without a visa. Other cities offering visa-free access are Beijing, Shanghai, Guangzhou, Chongqing, Chengdu, Dalian, Shenyang, and Guilin.
Foreign travelers from 50 countries, holding a third country's (territory's) visa and air ticket, can stay for up to 72 hours without a visa, on direct transit via Xi'an Xianyang International Airport.
The 51 countries are Albania, Argentina, Australia, Austria, Belgium, Bosnia and Herzegovina, Brazil, Brunei, Bulgaria, Canada, Chile, Croatia, Cyprus, Czech Republic, Denmark, Estonia, Finland, France, Germany, Greece, Hungary, Iceland, Italy, Ireland, Japan, Latvia, Lithuania, Luxembourg, Macedonia, Malta, Mexico, Netherlands, New Zealand, Poland, Portugal, Qatar, Montenegro, Romania, Russia, Serbia, Singapore, Slovakia, Slovenia, South Korea, Spain, Sweden, Switzerland, the Ukraine, the United Arab Emirates, the United Kingdom, and the United States.
See Visa-Free Travel in China for more on the requirements and cities you can visit.
About Xi'an
Xi'an ('West Peace'), the first of China's four great ancient capitals, was known as Chang'an ('Long Peace') in ancient times. It played an important role in China history.
Xi'an has lots of attractions with world-class ancient, religious, cultural, and natural features. Some of the most famous attractions are the Terracotta Warriors and Horses, Ancient City Wall, Big Wild Goose Pagoda, Small Wild Goose Pagoda, Huaqing Hot Springs, Mount Hua, Banpo Museum, Forest of Steles, Great Mosque, and Qianling Mausoleum.
Tour Xi'an with China Highlights
See the best of Xi'an with China Highlights' Xi'an tours, or contact us and let us help you design your own Xi'an tour according to your requirements. China Highlights has been specializing in tailor-making China tours for over fifteen years.
Related Links
This Article was first posted by
Annie Wu