Qingdao Travel Guide
Qingdao is situated at the foot of Lao Shan Mountain and on the shore of the Yellow Sea. Its climate is pleasant and its scenic spots are very beautiful. Qingdao is a famous garden city in China and its coast has many lovely inlets. Qingdao's architecture presents a characteristic European style and is very harmonious on the whole. Red roof tiles, green trees, azure seas and blue skies mirror the beautiful manner of Qingdao. Its crimson reefs, gentle waves, colorful sailing boats and golden beaches help to make up the beautiful scenery. Qingdao's history, religion, natural conditions, native customs and its festivals constitute the city's tourism culture. There are also some old buildings where famous figures in China's modern history once lived. The city's construction on the whole is a combination of European and traditional Chinese styles. Qingdao has two nicknames: "Oriental Switzerland" and "Asian Geneva". Qingdao, like a Shandong girl, is open and frank. The air is very clean in the city and the streets are very clean too. Houses along both sides of the street look bright against the background of the total clearness of the city. A person will feel very comfortable when leisurely walking along the streets of Qingdao.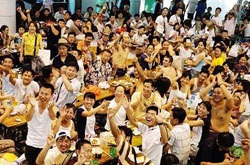 The Qingdao Beer Festival
Western Qingdao presents a classical beauty. However, the eastern part of the city has a modern charm, even a super-modern charm. The sea gives the city a sense of openness and Lao Shan Mountain brings a feeling of quietness and secluded beauty. There are only a few holiday resorts in China where there is a combination of quietness and activity such as in Qingdao. The Qingdao Beer Festival and Qingdao Sea festival are held regularly every July or August. Related colorful activities are included in the festivals, which tourists are welcome to take part in. Meanwhile, slim Qingdao girls and generous Qingdao boys are attracting tourists to pay attention to the charming characteristics of the native people.
Qingdao specializes in seafood. It is mild in taste, which is very welcome. The green stone of Lao Shan Mountain, natural pearls and ingenious craftwork made of grass are tourists' favorite buys. Qingdao is also famous for its beer. You can taste and enjoy the true original Qingdao beer here.
The area of Qingdao city is 10,654 square kilometers, among of which the area of downtown is 1,202 square kilometers. The population of the city is 2.24million.
The area code of Qingdao: 0532
The post code of Qingdao: 266000

Planning a trip? Ask us here 800-2682918 (USA & CA)
86-773-2831999 (Int'l)
Q:
Liana
Asked on 2012-05-06
Reply
is there a bus from qingdao to penglai? what is the operation time? thanks
Dear Liana, You can go to the Qingdao Bus Station to take a coach bus to get to Penglai, which starts at 9:30am. Hope it helps. Candice Song Replied on 2012-05-07
Q:
ali
Asked on 2012-02-22
Reply
i will be inqingdao 1st april what about the weather and how long from beijing by flight
Hi, the Qingdao average low and high temperatures in 1st April based on historical data are 5°C (41°F) and 11.67°C (53°F). Click here to get more information. http://www.chinahighlights.com/qingdao/weather/april.htm It takes 1 hour and 10 minutes from Beijing to Qingdao by air. The crow-fly distance is 646 kilometers. Doris Huang Replied on 2012-02-24
Q:
chinccm
Asked on 2011-04-26
Reply
plan to have a day trip in qingdao.any gppd suggestion? tks/rgd.
Chinccm, So how about this classic one day Qingdao tour? The cost for 1 people's group: US$130, 2 people is US$180 You will be picked up from your hotel, then transfer you to Zhanqiao pier. It is an old German pier, and the old symbol of Qingdao. Then we will continue our tour to TV Tower which is honored as the No.1 Steel Tower in china. After the lunch, you will arrive at Qingdao-beer Brewery. It is built by Germany in 1903 and has a history more than 100 years. Guesthouse is our next destination, which is a former German governor's villa. Finally, we will arrive at Badaguan area. It is full of trees and be called world architecture museum. You'll be transferred to your hotel in the late afternoon. Please advise me 3 wroking days earlier for arrangement, and the airport or railway station transfer is extra. Karen (karen@chinahighlights.com) Karen Yang Replied on 2011-04-27
Qingdao Facts
Chinese Name: 青岛
Chinese Pinyin: qīng dǎo
Location: East of China
Latitude: 36° 5' N
Longitude: 120° 22' E
Elevation: 0 M (0 FT)
Area Code: 0532
Population: 7.6 million
Time Zone: (UTC+8)