Qingdao City Area Map
Our Qingdao city area map shows the main roads, parks and surrounding water features to about 100 km from the city. Click the map to enlarge it.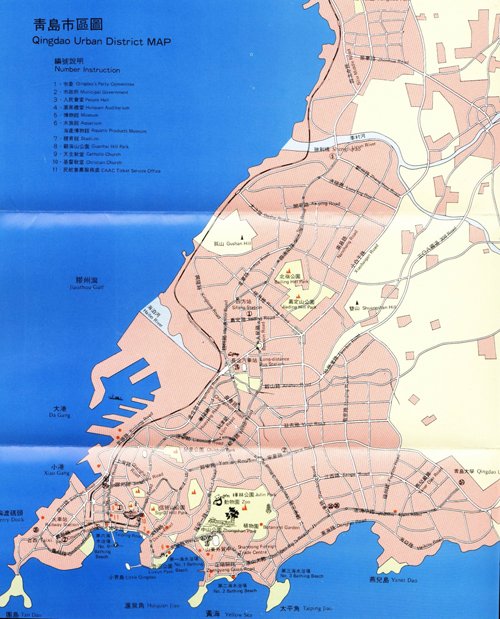 Questions and Answers About Qingdao City Area Map
eleuterio monte
2013-12-11
Show Answer
lm planning to visit qingdao youjie international trading co.ltd by december 15-17,2013. how far is qingdao from hongkong. l will be in hongkong on december 15-17 and lf have time l will visit qingdao in xinglong garden,xinglong road to see their rice mill. what are documents needed to enter qingdao?is qingdao accesseble by train or bus?
Qingdao needs to take 3.5 hours' flying from Hong Kong, and you need to apply China visa for entering Qingdao. There is no direct train or bus available between Qingdao and Hong Kong. Delia Xie replied on 2013-12-11
Manish Rathi
2013-04-11
Show Answer
What is the freight of a truck load 10 tonnes from Qingdao to Guangzhou in RMB .
Dear Manish, I regret that I am not familiar with this information and can't give you the data for reference. Lussie Lu replied on 2013-04-15
thomas hughes
2013-02-01
Show Answer
I am doing the memoirs of a US Marine who was stationed at Quingdao for six months, begining in October 1945. He was stationed as a protection detail for a hospital near the race park used then for the treatment of Japanese soldiers. I am looking for city maps (hoping to identify the hospital), and photos of the Quingdao area in 1945. Could you tell me where to go for such archived information? The Marine and I live near Philadelphia PA, USA.
Hi Thomas, sorry but we don't know that hospital. For the city map of Qingdao in 1945, please try it on Google. Whitney Liao replied on 2013-02-03
thomas
2012-11-07
Show Answer
I am in total confused about the cities in china:Qingdao and Guangzhou two names the same, one spell in Mardarin and the other spelt in Cantonese? I would be greatly appreciate for your clarification on these cities for me. Many thanks for your help.
Dear Sir or Madam, Qingdao and Guangzhou are spelt in Mardarin, their Chinese name are 青岛(Qingdao) and 广州(Guangzhou). Lussie Lu replied on 2012-11-07
fosu
2012-08-24
Show Answer
how far is it from beijing to quingdao , and that of shandong to quingdao ?
Dear Fosu, Qingdao city belongs to Shandong province, it is in the southeast of Shandong. It is about 670 km from Beijing to Qingdao. There are some trains you could take. It takes about 4.5-5 hours and it costs about CNY320-480/US$50-76 per person. Lussie Lu replied on 2012-08-24
April Offer $25 Coupon
Send your inquiry before Apr. 30, 2014, and we will email you a $25 coupon.
The coupon is valid till Dec. 31, 2014, for paying tour packages worth $250 or up.
The coupon cannot be used for paying flight tickets, train tickets, hotel rooms and day trips.
Travel Advice or Question? Ask us here

China Highlights
Qingdao Travel Guide