Qingdao City Area Map
Our Qingdao city area map shows the main roads, parks and surrounding water features to about 100 km from the city. Click the map to enlarge it.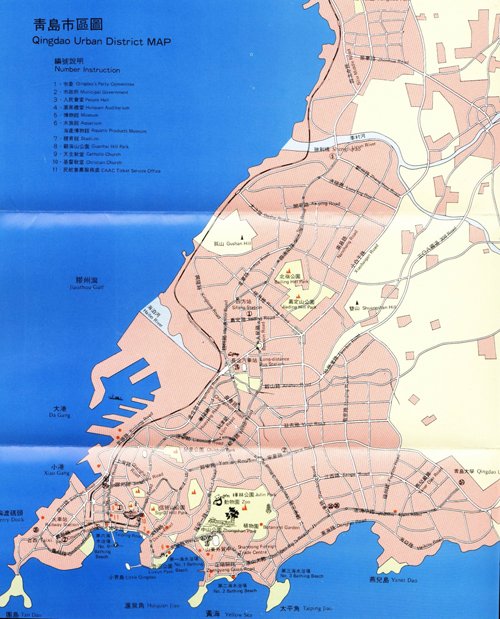 China Highlights
Planning a trip? Ask us here 800-2682918 (USA & CA)
86-773-2831999 (Int'l)
Q:
Manish Rathi
Asked on 2013-04-11
Reply
What is the freight of a truck load 10 tonnes from Qingdao to Guangzhou in RMB .
Dear Manish, I regret that I am not familiar with this information and can't give you the data for reference. Lussie Lu Replied on 2013-04-15
Q:
thomas hughes
Asked on 2013-02-01
Reply
I am doing the memoirs of a US Marine who was stationed at Quingdao for six months, begining in October 1945. He was stationed as a protection detail for a hospital near the race park used then for the treatment of Japanese soldiers. I am looking for city maps (hoping to identify the hospital), and photos of the Quingdao area in 1945. Could you tell me where to go for such archived information? The Marine and I live near Philadelphia PA, USA.
Hi Thomas, sorry but we don't know that hospital. For the city map of Qingdao in 1945, please try it on Google. Whitney Liao Replied on 2013-02-03
Q:
thomas
Asked on 2012-11-07
Reply
I am in total confused about the cities in china:Qingdao and Guangzhou two names the same, one spell in Mardarin and the other spelt in Cantonese? I would be greatly appreciate for your clarification on these cities for me. Many thanks for your help.
Dear Sir or Madam, Qingdao and Guangzhou are spelt in Mardarin, their Chinese name are 青岛(Qingdao) and 广州(Guangzhou). Lussie Lu Replied on 2012-11-07
Q:
fosu
Asked on 2012-08-24
Reply
how far is it from beijing to quingdao , and that of shandong to quingdao ?
Dear Fosu, Qingdao city belongs to Shandong province, it is in the southeast of Shandong. It is about 670 km from Beijing to Qingdao. There are some trains you could take. It takes about 4.5-5 hours and it costs about CNY320-480/US$50-76 per person. Lussie Lu Replied on 2012-08-24
Q:
juliet
Asked on 2012-02-29
Reply
how far the shenzhen from quingdao,how many hrs if we wikll take a train from shenzhen
Hello Juliet, it is 2452 kilometers from Qingdao to Shenzhen, and it takes about 30 hours by train. Doris Huang Replied on 2012-03-01
Qingdao Travel Guide