Quanzhou Transportation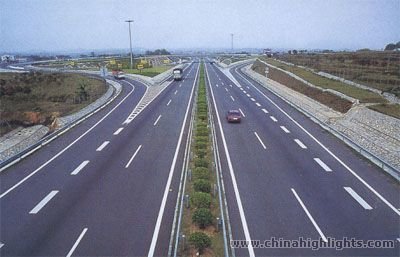 Air
The airport in Quanzhou lies east of Donghuan Road, Jinjiang City, which is only about 12 kilometers (7.45 miles) from Quanzhou. The airport in Jinjiang has launched dozens of flight routes connecting to Beijing, Zhoushan, Shanghai, Nanjing, Tianjin, Hangzhou, Nanchang, Guangzhou, Wuhan, Kunming, Chengdu, Changsha, Xi'an, Wenzhou, Chongqing, Shenzhen, Hong Kong and Manila in the Philippines. It has one of the top 50 airport throughputs in China.
Bus 16 in the central city of Quanzhou has a stop at Jinjiang Airport, with a ticket price of 3 RMB. About 100 meters in front of the airport lies a street where people can take buses. Quanzhou is to the right while Shishi is to the left.
If you want to take a taxi, you can bargain over the price. Usually, the price from the center of Quanzhou to the airport is 40 RMB to 50 RMB.
Coach
There are non-top buses in the port of Shijing in Quanzhou heading to the central city as early as 8 o'clock or 9 o'clock, with ticket prices from 7 RMB to 15 RMB. It takes about 60 to 90 minutes to get there.
If people miss the non-stop bus, they can take a bus to Shuitou where there are non-stop buses to Quanzhou. The bus leaves every 12 minute, with a full fare of 7 RMB or so. It takes about one hour to the destination.
It is 57 kilometers from the port of Quanzhou to the central city of Quanzhou. People can take a bus with the ticket price of 10 RMB. Also, there is another bus from Dehua to Quanzhou departing every 20 minutes having a stop here, making everything convenient.
Bus
There are 6 passenger stations in the central city of Quanzhou, including the Central Passenger Station, the New Passenger Station, the Old Passenger Station, the West Passenger Station, the East Passenger Station and Fengze Passenger Station.
Currently, buses going to other cities in Fujian Province leave from the Central Station while those going to the surrounding areas leave from the New Passenger Station.
The New Passenger Station is at the crossing of Wenling Road and Quanxiu Road, and the Central Passenger Station is at the crossing of Pingshan Road and Quanxiu Road.
Tips: There are 2 waiting rooms in the New Passenger Station. One is for middle-and-long distance travel, where there are buses to Xiamen and Fuzhou. The other one is for short-distance travel, where there is a bus to Shishi.
Railway
Quanzhou Railway Station is quite small, with only 3 routes to Ganzhou, Wuyi Mountain and Longyan. People can take Bus 19, Bus 7, Bus 25 or Bus 23 in the central city of Quanzhou in the direction of Huaqiao University. They can also take a bus whose destination is Huian to the railway station.
People seldom go to Quanzhou by train unless they visit Wuyi Moutain first and go to Quanzhou from Wuyi Moutain. Train K396 leaves Wuyi Moutain at 21:52 every night and arrives in Quanzhou at 10:48 the next morning.

China Highlights
Planning a trip? Ask us here 800-2682918 (USA & CA)
86-773-2831999 (Int'l)
Q:
Raya
Asked on 2013-04-14
Reply
How do I get from Beijing to Fujian (shishi) the cheapest way
Hi Raya, you can take train from Beijing to Xiamen first. Then change bus from Xiamen to Shishi.
Whitney Liao Replied on 2013-04-14
Q:
annie lu-homez
Asked on 2013-04-09
Reply
hi i''m annie and i''m a chinese leaving in the philippines, when i travel to quanzhou we are on a tourist group, so by now we (my hushand and i) are planning to go to quanzhou from sio hai (by ourselves),the nearest entry to china from Macau, how do we get there by bus from sio hai? please email me so with it''s corresponding chinese character, and how long will it take us to reach quanzhou.Thank you very much.
Hi Annie, sorry, I don't know any bus from sio hai to Quanzhou.
Whitney Liao Replied on 2013-04-15
Q:
Ismail
Asked on 2013-02-22
Reply
Is there a bullet train from Guangzhou to Quanzhou or Xiamen. If so how long does it take and what is the approximate price?
Hi Ismail, sorry, there are no bullet trains from Guangzhou to Quanzhou or Xiamen at the moment.
Whitney Liao Replied on 2013-02-22
Q:
Curachi Yap
Asked on 2013-01-24
Reply
Lussie Lu,The chinese names of my great grandfather is Tauco Yap.His nephew is Leung Cao Yap.And the great grandfather of my grandson''s name is Bompo Yap Sy.How about in Jinjiang airport? How do I go to Sheyi Cun, Shishan Zhen, Nan''an Shi, Quanzhou, Fujian, China?
Hi Curachi, you can take a taxi to Jinjiang Bus Station from the airport. There are direct buses to Nanan. Then take bus from Nan'an Bus Station南安汽车站 to Shishan Town. After that, rent a van to Sheyi Village.
Whitney Liao Replied on 2013-01-27
Q:
Curachi Yap
Asked on 2012-09-12
Reply
How do I get to Sheyi,Shishan,Nanan, Quanzhou, Fujian, China from Xiamen airport?How much is the fair

The name of my great grandfather is Yap Tauco. His nephew''s name is Leung Cao Yap also known as Jose Yap. Leung Cao Yap is married to a filipina named Mauricia dela Cruz. Their children are named Luz,Virgilio (Boy),Junior, Erlinda (Linda), Antonia (Nene) and Carmen (Baby). Another nephew is named Suya Yap.Another relative is named Yap Sin father of To Yap. The other nephews have filipino names:Cesar, Valentin, and Lorenzo. guest Replied on 2012-12-24

The chinese name of the great grandfather of my grandson is Bompo Yap Sy.He adopted the surname Aguila in the Philippines. guest Replied on 2012-12-24
Dear Curachi Yap, You could take a taxi from Xiamen airport to Hubin bus station(湖滨长途汽车站), it takes about 1 hour and costs about CNY50/US$8 per car. Then take a long distance bus to Nanan city. It takes about 2 hours and it costs about CNY30/US$5 per person. I am not sure where Sheyi and Shishan is, if you could provide their Chinese name, I will check the details for you. Thank you. Lussie Lu Replied on 2012-09-13