Sanya Weather in May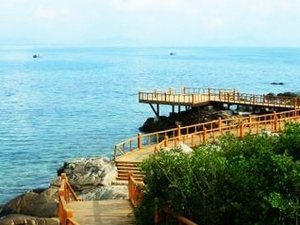 Sanya is hotter this month, with temperatures between 25 (77 °F) and 30 °C (86 °F), very suitable for a vacation. It is also the beginning of the rainy season.
In addition to sunscreen, also bring an umbrella to avoid the rains. Wearing T-shirt, skirts, or dresses is acceptable. You can also wear a thin blouse or a shirt with long trousers to protect yourself from the cool weather and wind in the early morning and evening.
The time between May and September is the off peak season for traveling and accommodations and restaurant rates are lower. You can have a nice, peaceful visit in Sanya. See our Sanya Tours.
Sanya Climate Information by Month

China Highlights
Planning a trip? Ask us here 800-2682918 (USA & CA)
86-773-2831999 (Int'l)
Q:
sush
Asked on 2013-05-12
Reply
I am planning to go to sanya on may 22,2013 for about a week.Will it be alright at this time?
Dear Sush, From May to Aug. it is hotest in Sanya and it usually rains. In Sep. and Oct. it will be cool, but it is also rainy frequently. From Nov. to Apr. in the next year, it is the best time for travelling. Lussie Lu Replied on 2013-05-13
Sanya Travel Guide