French Concession Shopping Gems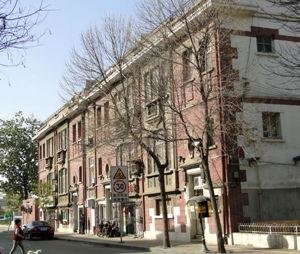 French Concession
Along with a dazzling diamond skyline, a rush of cosmopolitan restaurants, and a fusion of old meets new, Shanghai is synonymous with shopping. Whether it's a top end designer, a high street store, or a bargain at the market, you can't escape the multitudes of shops.
I do love a bargain and get even more of a thrill if it's an original piece. The best place for this? The tree-lined streets of the French Concession.
So, three girls set out on a sun drenched and crisp Saturday afternoon – perfect shopping conditions.
Energizing with Brunch
We begin our exploits at Sinan Mansions (Fuxing Lu, Sinan Lu) for some pre-shopping brunch. Wander through and find traditional or western food to suit.
See the best Shanghai restuarants.
Fuxing Lu Shopping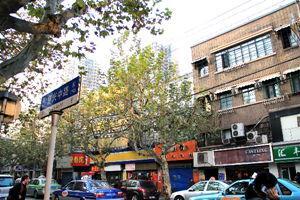 Busy Fuxing Lu
We then stroll west down the quintessential tree-lined Fuxing Lu, along with fast cars moving slowly and mopeds beeping furiously. As the sun comes out, so does the washing on the lines.
Most shops are worth a glance with many gems hidden away. We stumble upon a shore store and mosey on in.
My friend eyes up a pair of boots and as she feels the soft [probably fake] leather, they're ripped from her hands by another shopper. We can only laugh as we're caught among the scramble of Chinese. On closer look, the back of the shop is filled with clothes from Esprit. We've landed in the bizarre world of "is it real?" as we scramble the racks for clothes at 25% of the original price. We manage two coats and a denim skirt and we're only down RMB 500.
"Min pien ma?" I want to come back. "Mei you…" apologizes the assistant. If you see something in the French Concession, you have to buy it as you may never see it again.
We clamber unsuccessfully through another few shops before stumbling upon tights heaven – wall to wall racks of Christmas tights, sparkly tights, plain tights, spotty tights. You name it, there it is…at only RMB40 per pair!
Admiring Beyond the Shops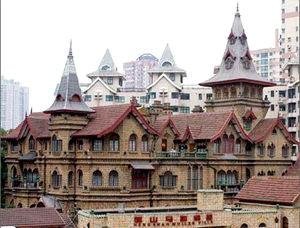 French Concession
A quick stop at a cash machine allows us to pause and appreciate the stunning architecture in the French Concession. Red brick is prominent, as is ornate window fittings and quintessentially French-style architecture. Mix this with the token washing hanging up and power lines crossed with power lines and random shops spilling out onto the streets and you couldn't be anywhere else.
Coffee Break
We veer left and then right before needing a coffee break in Yongkang Lu. Shanghai's Australian contingency plays Aussie football out the front while some interesting fashions weave through. Shanghai's streets are made all the more colorful with baby-pink velour pyjamas embossed with hearts.
Getting Lost and Finding a "Scarfigan"
With a few more lefts and rights I'm officially lost and that's the way I prefer it in the French Concession – more chance of stumbling across some eclectic shops.
An original "scarfigan" is discovered (you guessed it, a cross between a cardigan and a scarf…not sure how this works? Trust me, it does) but unfortunately some other unique pieces don't work so well.
Drinks to Finish
As the sun sets, our bearings come back to us. We must be near a familiar bar. Just in time for Happy Hour at Sascha's to pour over our purchases with a much deserved glass of wine.
Let us help you plan a personalized Shanghai tour for you and make the travel arrangements for you.
Related Reading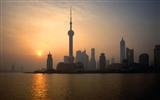 China Highlights
Shanghai Travel Guide