A Two-Day Trip in Shaoxing
Shaoxing, also called Huiji in the ancient time, was the capital place of Yue State in the Spring and Autumn Period and South Song Dynasty. Shaoxing, one of the cities with profound cultural background, is not far from Shanghai. Therefore, it's convenient for travelers to visit Shaoxing from Shanghai.
My mother and I were attractive by the beauty of Shaoxing, so we decided to visit Shaoxing to relax ourselves on weekends.
Preparation
Know the weather condition of Shaoxing.
Book the round-trip CRH train tickets.
Make a reservation for accommodation.
Day1. Lu Xun Former Residence, XianHeng Hotel, Shen Garden
It took travelers two hours to Shaoxing by CRH train from Shanghai. We arrived at about 10 am in the morning. And then we took a local transport called Xiaosanlun/ little tricycle to the hotel we had booked before. Maybe it's difficult to take a taxi because it's crowded at the train station. We left the baggage in the hotel and began our visiting in Shaoxing.
Lu Xun Former Residence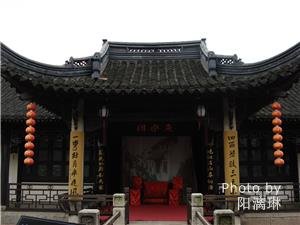 Lu Xun Former Residence
The first place that we visited in Shaoxing is Lu Xun Former Residence, including the houses, ancestral hall, Baicao/Hundreds of Grasses Garden, and Sanwei/Three Tastes Study. These places are open for free. Travelers should go to the Ticket Office to get the access permission. However, if you need to visit nearly all the sceneries of Shaoxing, it is economically to buy the package ticket for them. That's what we did.
Like so many travelers, we first knew the Luxun Native Place from a famous article titled From Baicao Garden to Sanwei Study by Luxun in Chinese Textbook, who was a famous and classical writer. Perfectly, the former residence of Luxun shows the furnishings that stand for the old Shaoxing people's life. Although some of these things are not the originals but they are still historic.
Covering an area of about 2,000km, Baicao Garden, is a large garden grow different types of followers and plants. It was a playground where Luxun played with his friends in his childhood. Seeing the beautiful garden, you can imagine that how happy a child would be playing in it. On the way to the exit of Baicao Garden, you may be interested in those vivid Chinese Zodiac-shaped sculptures with some delight words behind the mirror.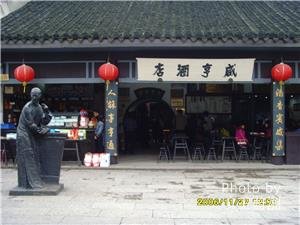 Xianheng Hotel
After visit Luxun Native Place, we moved to the Xianheng Hotel, which was founded originally in 1894. The hotel is famous because it was mentioned in many works by Luxun. It becomes more popular after its repeat rebuilding integrating the additional modern architecture. In front of the gate is a statue of Kong Yiji, a classical character of a novel that is known to all by Luxun. We took lots of photos here.
The next scenery we went to is Sanwei Study. Actually, it's a small traditional private school where Luxun studied. In Sanwei Study, you can enjoy the air of elegance for a moment.
We took a Wupeng boat at the dock of the Study to get to Shen Garden. Also, you can choose to walk there for it is nor far from the Study.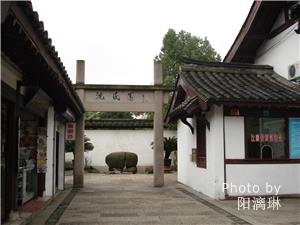 Shen Garden
Travelers need to buy a ticket for the entrance. Shen Garden is notable for a romantic love tragedy happened between Lu You and his wife Tangwan. Lu You is a famous poet lived in the South Song Dynasty. Shen Garden was a typical garden with beautiful artificial hills, porch, bridge, and pavilions. But the beauty of the garden could not keep Tangwan from dying after a few years' divorce with her lover, Lu You. The Chinese famous poems Chai Tou Feng were written by Lu You and Tangwan respectively, after they met each other again in Shen Garden. At that time, they had been divorced. Visiting the garden, you will find that the two poems were carved in a wall. Travelers often can not help being impressed by the story of them, not excepting us. What's more, there is a performance at night in Shen Garden. Travelers who own the package ticket can not miss it.
It's late when we left Shen Garden, so we looked for a restaurant. To our surprise, we found a private museum that exhibits some tasteful goods with ages. From this I guess that the owner is a person who loves cultural relics. Visitors just need to register to get in without paying. I sincerely hope the museum has a better future.
As for supper, we liked to have dinner at the Shaoxing Restaurant. It's not easy for us to find it because it's hidden in the noisy city and it's dark, but as a matter of fact, the restaurant is easy to be found because of its location. The restaurant serves delicious Shaoxing-style dishes and western style food. It is not only famous for its tasteful food but also its pleasant and peaceful environment. The restaurant consists of traditional architectures that look majestic with their black roofs and white walls. Together with paths and corridors, bridge and stream, flowers and other plants, the restaurant completely shows the features of the local-style dwelling houses in the south regions of the Yangtze River. The Shaoxing Restaurant is the first place for the Shaoxing government to receive very important persons. Its back door is near the bus station; therefore, the transportation is convenient.
After dinner, we went back to our hotel and got some information about transportation to Da Yu Tomb.
Day 2. Da Yu Tomb Scenic Area, East Lake, and Lanting Pavilion
Da Yu Tomb Scenic Area
On the next day morning, we left the hotel early to Da Yu Tomb Scenic Area with our portable luggage so as to save our time. It nearly took us 50 minutes to the destination. We arrived so early that it looked as if we were the first visitors on that day. The air was pure and fresh and in the morning in such a majestic place so that we could have a quiet visit.
Da Yu Tomb was a key cultural site under state protections. It's a tomb where Yu was buried. Yu was a great man known to the Chinese people. In remote antiquity, the Yellow River was stricken by serious foods for many years, which brought great disaster to the people and the country. Da Yu, leader of the Xia tribe, was appointed by Emperor Shun to tame the floods. He made efforts unremittingly to tame the river for 13 years. Even he passed his home during his taming sometimes; he did not get in to meet his family. He did that tree times. Finally, he completed dredging channels to lead the floodwater to the sea and made the Yellow River under permanent control and resettled those homeless people. He died of overwork in southeast part of Shaoxing. People they built the tomb to bury Da Yu to show express thanks and admirations to him. And even nowadays, the story of Da Yu is much-told tale.
There is a large square for holding kinds of activities and travelers also can take a Wupeng boat to visit the area.
A large statue of Da Yu stands on a wooded hill. If you like climbing, you can have a try. Some maple leaves has turned golden yellow and I believed it would be more beautiful in coming days.
When we decent the hill, I found a memorial that I forgot its name in which I learned the definitions of "Five Towns". I was happy that it enlarged my knowledge.
East Lake
After visiting the Da Yu Tomb, we took the private car to East Lake because of time reason. East Lake is near the Da Yu Tomb so it's convenient to drive there. Actually, it took us 20 minutes.
The first expression on East Lake was just so so. However, the more places I visited, the more surprise I got. In fact, the East Lake got its name from the time the when the Emperor Qin Shihuang was on an inspection tour to "Hui Ji". The mountains and hills around the East Lake were digged and holed from Han Dynasty particularly in Sui Dynasty. Through years, these mountains and hills becomes the perpendicular cliffs, together with the green water make the East Lake harmonious and pleasant to visit. It's said that the water and rocks in East Lake is number one in the world.
We visited the lake on the land. We gasped with admiration at its magic and unique beauty, the winding river, and the cliffs on one side.
And also, you can choose to take a Wupeng boat to enjoy those fantastic holes and cliffs that you cannot see clearly on the land.
Lanting Pavilion Scenic Area
After that, we went back to the center of city to take bus to Lanting Pavilion Scenic Area. Lanting Pavilion is notable for the great work The Orchid Pavilion by famous calligrapher Wang Xizhi.
The must-see here is an imperial tablet. On its front side, there is a whole text of The Orchid Pavilion copied by Emperor Kang Xi of Qing Dynasty; on its back side a there is poem created by Emperor Qian Long of Qing Dynasty. Therefore, Lanting Pavilion is a heaven for the calligraphy enthusiasts.
There is a calligraphy museum among the bamboos where you can enjoy various types of the Chinese characters. As for souvenirs, you can buy some paintings and calligraphies in a shop at an available price. What's more, Lanting provides clean water for visitors to exercise their calligraphy on stones.
In Lanting, we enjoyed the performance at Qushui Liushang Pavilion and played games with the staff happily.
When it became dark, we took bus to the city center to have dinner so that we can catch the train back to Shanghai. Before we went to the railway station, we made the best use of our time to visit the Zhou Enlai Memorial Hall. The buildings here are built in the Ming-Qing Dynastyn style. Considering its unique architectures and its cultural background, it is worth visiting very much.
We were absorbed in visiting so that we nearly forgot the time. We had arrived at the train station 15 minutes before the train left.
It's just a two-day trip in Shaoxing. But, I was deeply impressed by its rich cultural background and beautiful sceneries. I believed that I would visit it again. The last but not the least, the local food is so good that you should not miss it.
Check out our best selling tour: Three-Day Essence Tour Of Shanghai
Expenses
Round-ticket: 130 yuan/per each
Sceneries package ticket: 140 yuan/per each (Ttravelers aged 60 or above can buy the ticket at half price.)
Accommodation: 180 yuan/per night
Food: 70/per each
Wupeng Boat: 15 yuan/per each
Transportation fee in Shaoxing: 35 yuan/per each
In total: 400 yuan/per each
See China Highlights' Shanghai tours and join one of them, or contact us and let us help you tailor make a tour for you.
Questions and Answers About A Two-Day Trip in Shaoxing
Suleen
2014-03-13
Show Answer
how do we get the train ticket to Shaoxing. Is the hotel Xianheng good? Can we get the email address?
May i know which train ticket you would like to purchase? How many persons are there in your group and for which date?You can get the train tickets from train station or delivered to your hotel.
Xianheng hotel was rated #3 in among all hotels in Shaoxing, we don't have the email address but you can check the feedback to this hotel from tripadvisor at :http://www.tripadvisor.com/Hotel_Review-g297471-d501519-Reviews-Old_Xianheng_Hotel-Shaoxing_Zhejiang.html
Simon Huang replied on 2014-03-15
April Offer $25 Coupon
Send your inquiry before Apr. 30, 2014, and we will email you a $25 coupon.
The coupon is valid till Dec. 31, 2014, for paying tour packages worth $250 or up.
The coupon cannot be used for paying flight tickets, train tickets, hotel rooms and day trips.
Travel Advice or Question? Ask us here
China Highlights
Shanghai Travel Guide