Circus World
Covering an area of 2, 2500 square kilometers, Shanghai Circus World has been renowned as "China's No. 1 Circus World". Suited at Gonghe Xin Lu Road, it has been a popular attraction integrating circus, acrobatic, magic, dancing and music performances. Shanghai Circus World has the Acrobatic Field as its main body, Rehearsal Uxiliary Building, Animal House and Cultural and Commercial city as side installations.
Acrobatics Field
As the main body of Shanghai Circus World, the Acrobatics Field has 1,638 seats. The field is equipped with modern computer-controlled lighting facilities, multi track and stereo sound systems. The design of the performance area is creative, making a breakthrough of the traditional style. A revolving stage, an lifting stage and picture-frame stage are set up here. Its modern, overall facilities make the Acrobatics Field well meet the requirement of acrobatic and circus competitions, as well as provide an excellent space for general music performance.
Animals House
It is a giant building with rooms for elephants, chimps, horse, giant pandas and some fierce beasts including tigers, lions. occupying an area of around 1,540 kilometers, and the building is equipped with all possible up-dated facilities.
Cultural and Commercial City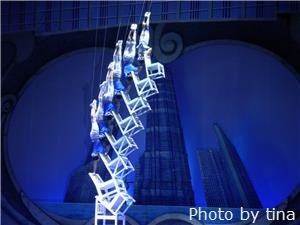 This area is mainly for acrobatic and circus exhibitions and international exchanges.
The glittering Shanghai Circus World has been well known internationally. The prominent Shanghai Acrobatic Troupe gives its sensational performances here on a regular basis. Since it first opened to public in 1999, Shanghai Circus World has been the stages for more than 800 performances. It once received representatives of the Universal Postal Union convention and held the Closing Ceremony of the 1999 Shanghai Tourism Festival. Now the place has become the center for national and international acrobatic and circus performances exhibitions and exchanges.
Questions and Answers About Circus World
Wendy Law
2012-08-08
Show Answer
I want to buy the tickets for Shanghai Circus World on Aug 17 /12. How can we buy them from Canada as the official website only accepts chiinese Credit cards
Dear Wendy Law, I regret that we don't buy the ticket onlyfor our clients and I have searched on line, but there is no a website with English version providing this service. You'd better buy it at the ticket office when you arrive in Shanghai. Lussie Lu replied on 2012-08-09
Irre cris
2012-08-03
Show Answer
Hi how to get there from peoples square station by mtr.Pls let me know.Tnx
Ley
2012-01-27
Show Answer
Hi, It mentioned that the cost ranges from RMB80 to RMB580, How far is it from the stage if I buy only RMB80? Do I need to use a binocular?
Hi, The stage is arc-shaped. The cheapest seats are located at the corncers of the stage, where spectaculars probably are not able to have a complete view of the performance. The distance between the seat and expensive seats are almost the same. Ruru Zhou replied on 2012-01-28
Silvia
2012-01-18
Show Answer
Is there performance from 19-21 jan 2012? If there is, how can i buy tickets?
Yes, there is performance every day, starting at 19:30, including the period from 19-21 Jan. The ticket price ranges from 80 yuan to 580 yuan. You can go to the Circus World and buy tickets. Also, you can dial 021-52374001 to book tickets. This is the website of Shanghai Circus World (only in Chinese): http://www.shanghaimaxicheng.com/. Lynn Ye replied on 2012-01-19
John
2011-12-27
Show Answer
Can you access the performances with a wheelchair ?
Hi John, thank you for your inquiry. I'm Nora, a trip advisor of China Highlights. Glad to offer you some information. I've contacted the Circus World and they informed that there is no access for wheelchair now. If you would like to enter the Circus World to see the performance, you will have to walk through a few stairs. Nora Ou replied on 2011-12-27
April Offer $25 Coupon
Send your inquiry before Apr. 30, 2014, and we will email you a $25 coupon.
The coupon is valid till Dec. 31, 2014, for paying tour packages worth $250 or up.
The coupon cannot be used for paying flight tickets, train tickets, hotel rooms and day trips.
Travel Advice or Question? Ask us here

China Highlights
Shanghai Travel Guide