Dongtai Road Antique Market
Dongtai Road Antique Market, located in Dongtai Road in the Luwan District of Dongtai, a suburb of Shanghai, is a renowned outdoor market where one can find many "antiques" (Most are said to be fake!), yet one is inclined to forgive the vendors at this very special old flea market for any fakery, because Dongtai Road is the only remaining flea market in the Shanghai area that is still devoted to selling antiques.
Dongtai Lu Antique Market has character; here, amidst the trinkets and possible ersatz antiques, you will run across old people loudly playing cards, or slapping Mahjong tiles on tabletops to the accompaniment of shouts (Mahjong is a game of tiles for four players, though apparently based on a card game, where one typically plays so-called suits, as one does with mahjong, which has prompted some to suggest that the game is in fact based on a certain card game called Ma Diao). Many, if not most, of the flea market's stalls are run by women, who seem constantly to yak among themselves and with prospective customers, a further detail that adds flavor to Dongtai Road Antique Market.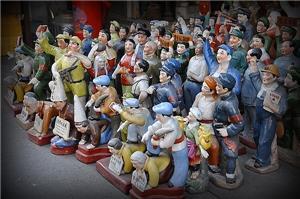 Dongtai Road Antique Market
In all there are 125 stalls here selling everything from curios and trinkets to furniture items and various other props that are peddled as genuine, ancient stuff from Shanghai's many old theatres.
Even if most of the "antiques" at Dongtai Road Antique Market are fakes, some are without doubt genuine, and who would want to miss the chance to pick up something really genuine from China's past, compared to the boatloads of stuff that arrive at the world's shores from China today?! The vendors at Dongtai Road Antique Market still sell birds, in spite of the bird flu scare of recent times. Also they add charm to the shopping experience. Don't forget to try and haggle over the price, if you see something that catches your fancy. The mid-afternoon heat, when things grow quiet and vendors begin to show signs of fatigue, is said to be the best time to strike a bargain.
Questions and Answers About Dongtai Road Antique Market
Eddie
2012-11-08
Show Answer
Hi! Any suggestion on where i can buy fake branded items ; Nike,Adidas or any night market for a good bargain. Thank you
Hi Eddie, you can go to Huating Road (Huaihai Road) and Anshun Road to have a look.
Whitney Liao replied on 2012-11-09
April Offer $25 Coupon
Send your inquiry before Apr. 30, 2014, and we will email you a $25 coupon.
The coupon is valid till Dec. 31, 2014, for paying tour packages worth $250 or up.
The coupon cannot be used for paying flight tickets, train tickets, hotel rooms and day trips.
Travel Advice or Question? Ask us here

China Highlights
Shanghai Travel Guide