Shanghai Volkswagen Industrial Tour
Feature: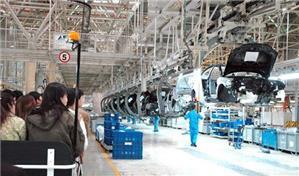 Visit the largest and most modernized car production base in China, and watch the whole production process of cars. Contact us for a tour to visit one of Shanghai Volkswagen's factories.
Overview:
Shanghai Volkswagen Automobile Co. Ltd is a Sino-German joint venture. With annual production capacity of more than 450,000, it produces the largest number of cars and vehicles among all the car production bases in China.
Battery cars are equipped inside the factory, which can avoid the trouble of conflict between daily production and visitors' tour. Shanghai Volkswagen Industrial Tour brings you to the production line, witness the process of car production, and experience advanced management and modern technology, as well as the profound influence of the coming automobile era in China's society.
Address: 5288, Cao' an Road.
Opening hours: 9:00-17:00
Questions and Answers About Shanghai Volkswagen Industrial Tour
Murat
2014-04-03
Show Answer
Dear Sir and Madam, a group of 22 Persons are interested to take part at Volkswagen Industrial Tour during 20.05.2014 until 24.05.2014. Could you please send as a offer. Kind Regards Murat
ily
2013-09-24
Show Answer
Hello, i was wondering if Shanghai Volkswagen Industrial Tour is already available this year? or will it possibly be, early next year?
Volkswagen company doesn't publish for visitor now. We have not had any more news from it so far.
Carol Wang replied on 2013-09-25
Kumar
2012-11-24
Show Answer
Hi,We are 25 of us who want to visit Shanghai and beijeing for 7 days. We want to visit the i3 Industries. Let us know the plan and duration. It will happen in march
Hi Kumar,
I'm sorry that the Shanghai Volkswagen Industrial Tour is no longer available now as the Vlkswagen company is about to produce a new model of car and is not open to tourists now. Weather it is available or not for next year , still wait to know. I have made a 7 days tour for you, please check it with your email.

Christy Luo replied on 2012-11-24
Spencer
2012-11-01
Show Answer
Will this tour be back up and running during the end of February/ beginning of March for 2013? And if not what other company tours could I do? I have a whole group of students and we are looking to check out businesses in Shanghai!
Hi Spencer, sorry, we are also waiting for the exact information. And once we get informed, we will email you.
Whitney Liao replied on 2012-11-04
Erica
2012-10-17
Show Answer
Are there any other car related tours available in Shanghai right now? My parents are coming in the first week of November, they are huge car fanatics, I was planning to bring them to the Volkswagen Tour, but sadly its closed.
Hi Erica, sorry to inform that there is no car related tours available in the near future.
Whitney Liao replied on 2012-10-17
April Offer $25 Coupon
Send your inquiry before Apr. 30, 2014, and we will email you a $25 coupon.
The coupon is valid till Dec. 31, 2014, for paying tour packages worth $250 or up.
The coupon cannot be used for paying flight tickets, train tickets, hotel rooms and day trips.
Travel Advice or Question? Ask us here

China Highlights
Shanghai Travel Guide