Area Map Between People's Square to The Bund
This is a detailed map showing the roads and landmarks of the area between People's Square and the Bund. You can click the map to enlarge it.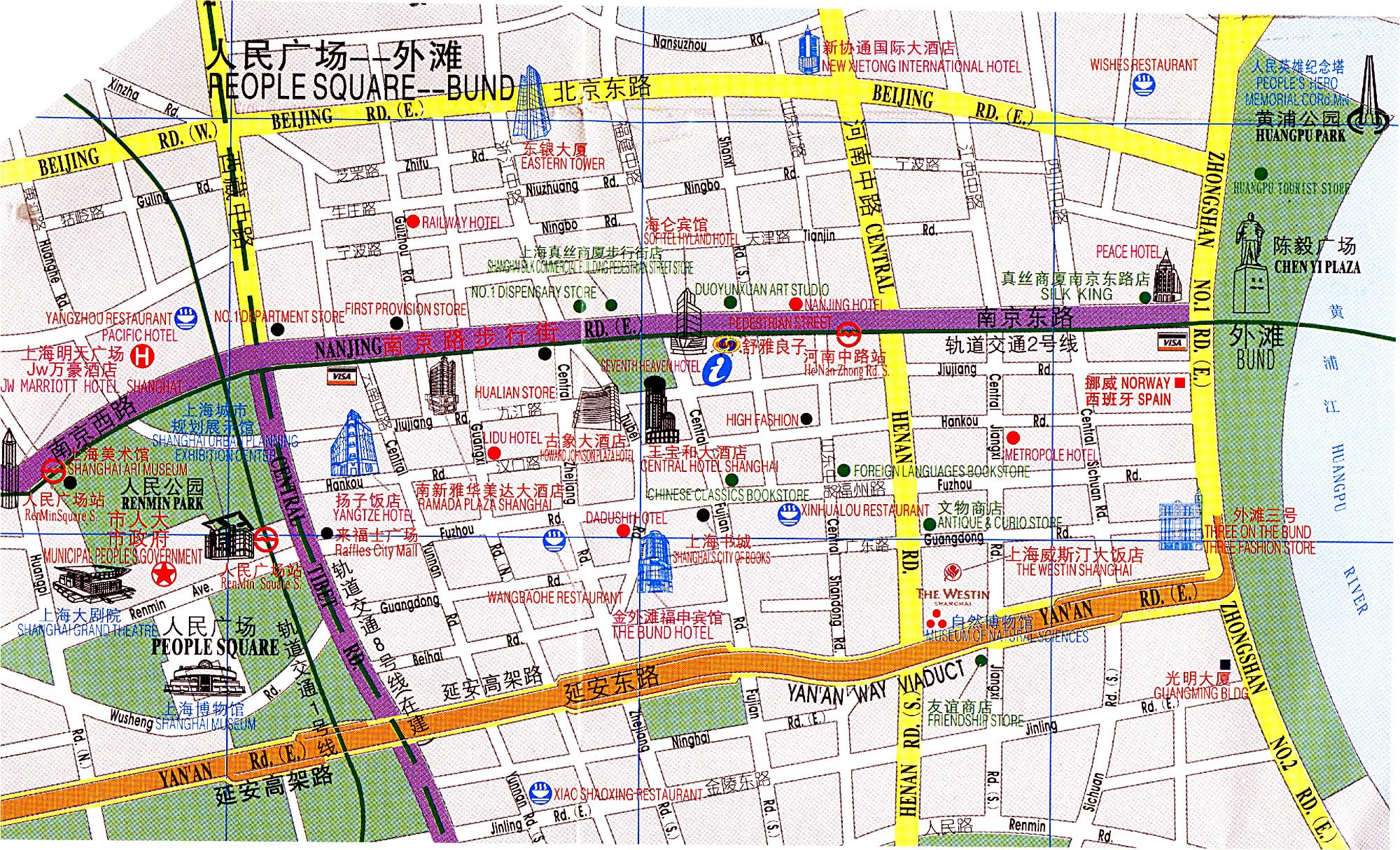 China Highlights
Planning a trip? Ask us here 800-2682918 (USA & CA)
86-773-2831999 (Int'l)
Q:
Aanika
Asked on 2013-01-17
Reply
I am in yiwu at the moment but will be leaving here on sunday and getting the train to shanghai south station on sunday 20th jan around 3pm. I would like to stay in a hotel in people square on sunday and then catch a flight from pu dong airport back to london on monday morning.Please can you tell me how i would get from the trai station to people square and how far is it?Can you also tell me how far people square is from Pu Dong airport?Thank you
Hi Aanika, from Shanghai South Railway Station to People Square is about 15km. You can take Metro Line 1 to get there.
From Pudong Airport to People Square is about 50km. You can take Line 2 directly to get there.
Here is the subway map for your information: http://images.chinahighlights.com/city/shanghai/shanghai-subway-map.jpg
Whitney Liao Replied on 2013-01-18
Q:
geber
Asked on 2012-12-14
Reply
How large is the People''s Park in Shanghai? And the People''s Square?
Dear Sir or Madam, The People's park is about 10,000㎡ and the people's Square is about 140,000 ㎡. Lussie Lu Replied on 2012-12-17
Q:
mohammad
Asked on 2012-11-13
Reply
I travel by airlain cz shanghai to urumchi which airport?
Hi Mohammad, it is Shanghai Hongqiao Airport.
Whitney Liao Replied on 2012-11-14
Shanghai Travel Guide