Shanghai Subway Map
Our Shanghai Subway map is diagrammatic, showing Beijing's 13 subway lines, with lines color-coded and station names in English and Chinese characters.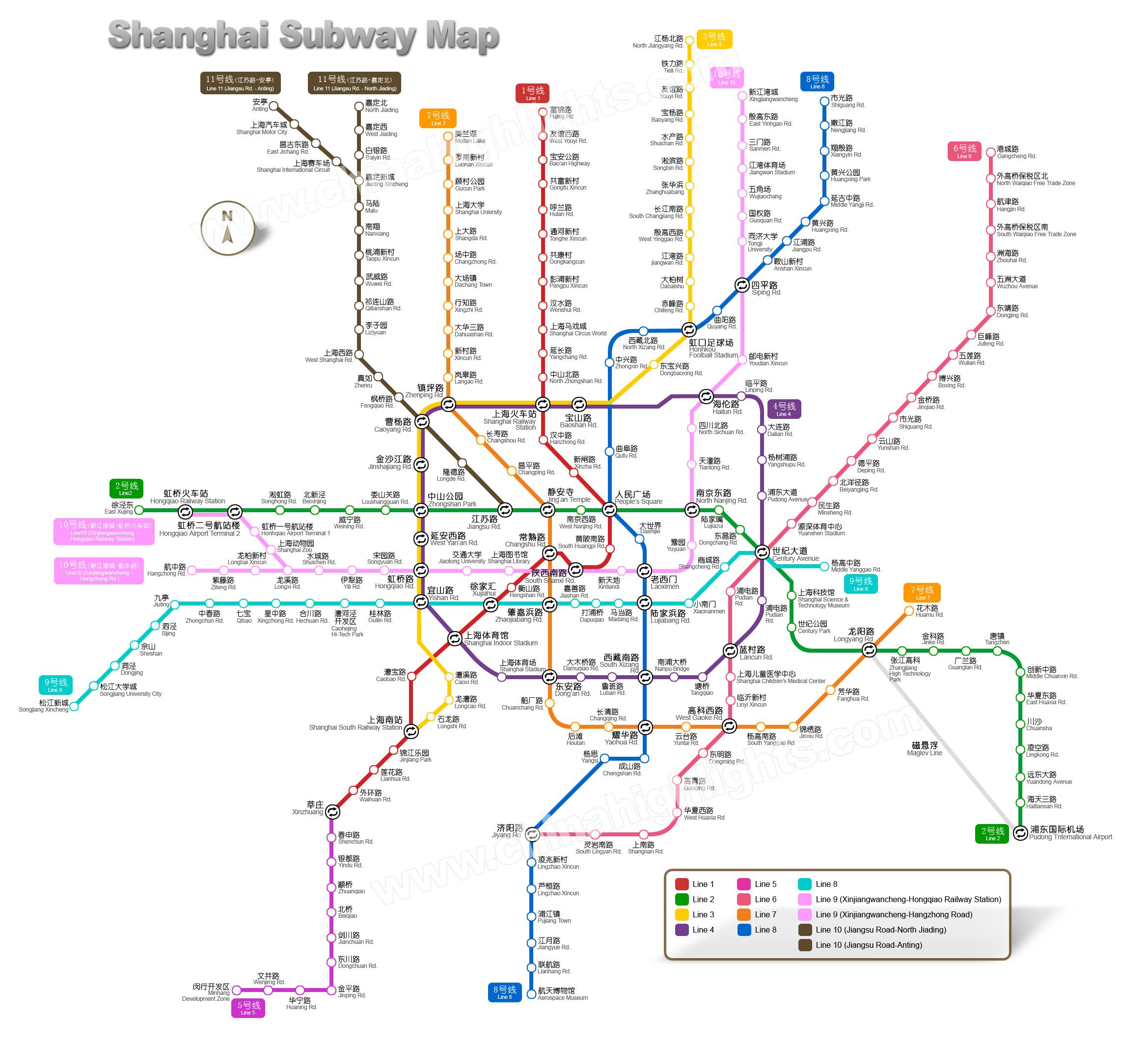 China Highlights
Planning a trip? Ask us here 800-2682918 (USA & CA)
86-773-2831999 (Int'l)
Q:
Lia
Asked on 2012-10-16
Reply
Hi me and my husband planning to go to Beijing, Shanghai and Chengdu next week 20 Oct.12 I just want to ask if its possible that we can go to Chengdu by train? if its possible can you please help us what metro lane we need to take and how many hours is the travel time. How much is the train fare from Shanghai going to Chengdu?And can you please help us to find cheaper hotels (1 - 2 starhotels) or apartments in Beijing.What is the weather in Beijing this month?What is best tourist spot in Beijing, Shanghai and Chengdu? What / Where is best restaurant in Beijing, Shanghai and Chengdu? And what us the best food in Beijing, Shanghai and Chengdu.What / Where is the best malls in Beijing and Shanghai?Thank you very much!
Hi Lia, yes, it is possible to take train from Shanghai to Chengdu. It takes 29-39hrs. The fare for soft sleeper is about CNY 700-800.
For hotels in Beijing (1-2 star), I recommend the Beijing City Central International Youth Hotel to you. http://www.sinohotel.com/english/hotelinfo/beijing_city_central_international_youth_hotel.html?startDate=2012-10-20&endDate=2012-10-23
The weathers for these 3 cities in October are all good. You can check the up to date information via this website: http://www.weather.com.cn/english/
For attractions:
The Forbidden City, Great Wall, Tian'anmenSquare, Temple of Heaven, Summer Palace, etc. are all can't missing in Beijing.
In Shanghai, the Jade Buddha Temple, Shanghai Urban Planning Exhibition Hall, Oriental Pearl TV Tower, Shanghai World Financial Center, etc. are highly recommended.
While in Chengdu, Du Fu Thatched Cottage, Wuhou Temple,Jinli Old Street, Chengdu Giant Panda Breeding Research Base are the most popular ones.
The best food in Beijing is the roast duck and hot pot in Chengdu. There is a lot of delicious foods in Shanghai, it is hard to say which is the best, depends on your taste. So are the restaurants.
The best shopping place in Beijing is Wangfujing and Nanjing Road in Shanghai. I am not able to tell which mall is the best.
Do you need any tour in these 3 places? If yes, in order to give you an accurate quotation please answer a few questions so that we can construct an itinerary that gives you what you want at the best possible price.
1. Number of people in your group including yourself
2. Length of stay in China
3. City or cities of entry/exit
4. Estimative total budget per person.
After getting further information from you, we will send you a tentative itinerary.
Whitney Liao Replied on 2012-10-16
Shanghai Travel Guide