Baishui Terrace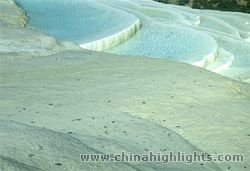 Located 101 kilometers northwest of the Zhong dian county seat, the Baishui Terrace is one of the most important scenic spots of the Zhongdian county, Diqing Tibetan Autonomous Prefecture. Snugly situated on a mountain slope 2,380 meters (about 7,806 feet) above sea level, Baishui Terrace, 140 meters (about 459 feet) in length and 160 meters (about 525 feet) in width, is one of the biggest such terraces in China. The spring water runs down from the top row by row to the bottom, like a white terraced field.
Each year, on the eighth day of the second month of the lunar calendar, is the day for the Naxi people to celebrate the traditional February 8th Festival. People of various groups congregate around the terrace, singing and dancing and slaughtering chickens to pay tribute.
It was said that the two Gods of Naxi fluctuated such a terrace on purpose in order to teach the Naxi people how to make and cultivate a field, thus a legend that the immortals left behind the terrace spread quickly.
Page Rating:
4.70

/

5
based on
24
ratings.

China Highlights
Shangri-la Travel Guide
Shangri-la Top Attractions