Free Things to Do in Shenzhen
Shenzhen is a vibrant city where everything is expensive. Although it is a fast-developing economic city with less tourist charm, the city has many relaxing parks. Here is a list of some of the best things to do in and around the city.
Wutong Mountain
Wutong Mountain is the highest mountain in Shenzhen. The top of the mountain commands fantastic views of the city's skyline.
The mountain is on the east side of the city, bordering Shenzhen Reservoir on its west. There is a highway leading up to the mountain top. A hike up to the mountain top takes around 3–4 hours. It is an arduous and exhausting climb, but quite worth it. You will pass clear brooks, streams, and waterfalls on the way. We recommend you take a car to the top of the mountain and hike down, an easier walk of about 2 hours.
How to get there: Take public bus 211 and get off at Wutong Mountain station.
Lianhuashan Park
Lianhuashan Park, in the center of the city, offers a quiet and peaceful place, which is in stark contrast with the busy atmosphere outside the park wall.
There are plenty of trees, open areas, and pleasant walking paths. You will see locals having picnics, flying kites, or playing outdoor sports there. There is an uphill path to the statue of Deng Xiaoping, where you can get a bird's eye view of the city.
Location: 6030 Hongli Road, Futian District, on the opposite side of the Childrens' Hospital
How to get there: Many public buses pass the park, like 10, 14, 15, and 25.
Mangrove Nature Reserve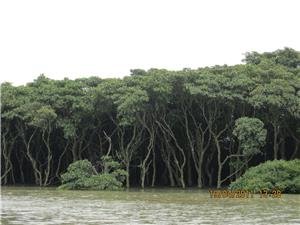 Mangrove Nature Reserve
This park offers a relaxing escape from the stress of urban city life. It is quite large with a lot of open space. You can have a picnic; go hiking or biking, or fly kites there. Looking up at the sky you will see a lot of birds.
Location: It is close to Nanbianche Public Temple on Shennan Avenue 深南大道南边车公庙附近
How to get there: Public buses 203 and 204 can take you there.
Lychee Park
Lychee Park, like the other parks mentioned above, offer a relaxing place in the center of the city. There is a large lake, streams, pleasant lakeside walking paths, children's playground, lots of green trees, and plentiful open areas. Local people like to go this park for singing, dancing, playing music, or just for enjoying a nice walking.
Location: 福田区红岭中路 Hongling Middle Road, Futian District, close to Shenzhen Library.
Central Park
Central Park is a green and quiet gem in the center of the city. There are lawns planted with palm trees, a playground, and a pond for fishing.
Location: It is located on Zhenghua West Road (振华西路), close to Shanghai Hotel.
Dameishan Beach
This is the only easily accessible beach in Shenzhen. The beach is clean and quiet in the low travel season. Avoid going there on weekends and during peak times when the beach is filled with people. If you stay at Sheraton Dameisha Resort there is more private beach and good accommodations.

Location: It is located in Yantian District, about half an hour's drive from the center of the city.
Other Free Parks in Shenzhen
Other free parks in Shenzhen are: Zhongshan Park, Agriculture Research Center (农科中心), Bijia Hill (笔架山), East Lake Park, Hong Lake Park, People's Park, Children's Park, Meilin Reservoir, South Hill, Sihai Park (四海公园), and Azalea Hill.
Questions and Answers About Free Things to Do in Shenzhen
vasu
2014-04-18
Show Answer
hi i want visit shenzhen pls let me know placees to see and shopping
Hi Vasu,
Greetings from Cecilia at China Highlights Travel!
In Shenzhen, here the Window of the World, China Folk Culture Village, Happy valley and etc are worth to visit. For shopping, you can go to Luohu commercial City, Dongmen Shopping Street, and Huaqiangbeilu Electronic Goods center, please click HERE fore more inforamtion.
China Highlights is an on-line tour agency which offers varied of tour services, including tour packages, hotel rooms, air tickets and etc; please feel free to let me know if anything I can help you.
Kind regards,
Cecilia
Cecilia Peng replied on 2014-04-20
Wee
2014-02-09
Show Answer
Where will u recommend for a place to have a good clean massage with a place to sleep for overnight with my wife
Hi Albert, sorry, we are a travel agency. We don't have those information. If you need any tour service, please feel free to contact me. Whitney Liao replied on 2014-02-10
rachel
2013-12-09
Show Answer
Due to a short notice, I''m planning to travel to shenzhen this weekend alone. is there a local guide that can guide me? As I''m concern with the crime and safety issues.
Yes, i can arrange one English speaking tour guide for you in Shenzhen, the guide service is US$100/day ( 8hour working time normally).
It is quite safe in Shenzen accturally, you may meet bad people, but very very few , please be carefull always.
please send email to lily@chinahighlights.net if you need our guide service.
Lily Guo replied on 2013-12-09
April Offer $25 Coupon
Send your inquiry before Apr. 30, 2014, and we will email you a $25 coupon.
The coupon is valid till Dec. 31, 2014, for paying tour packages worth $250 or up.
The coupon cannot be used for paying flight tickets, train tickets, hotel rooms and day trips.
Travel Advice or Question? Ask us here
You might like

Top 3 Camping Sites in Shenzhen

China Highlights
Shenzhen Travel Guide