Shenzhen Subway Map
Our Shenzhen subway map shows Shenzhen's five subway lines in an easy-to-follow diagram, with color-coded lines and station names in both English and Chinese characters. See our Shenzhen Transportation page for more detailed information.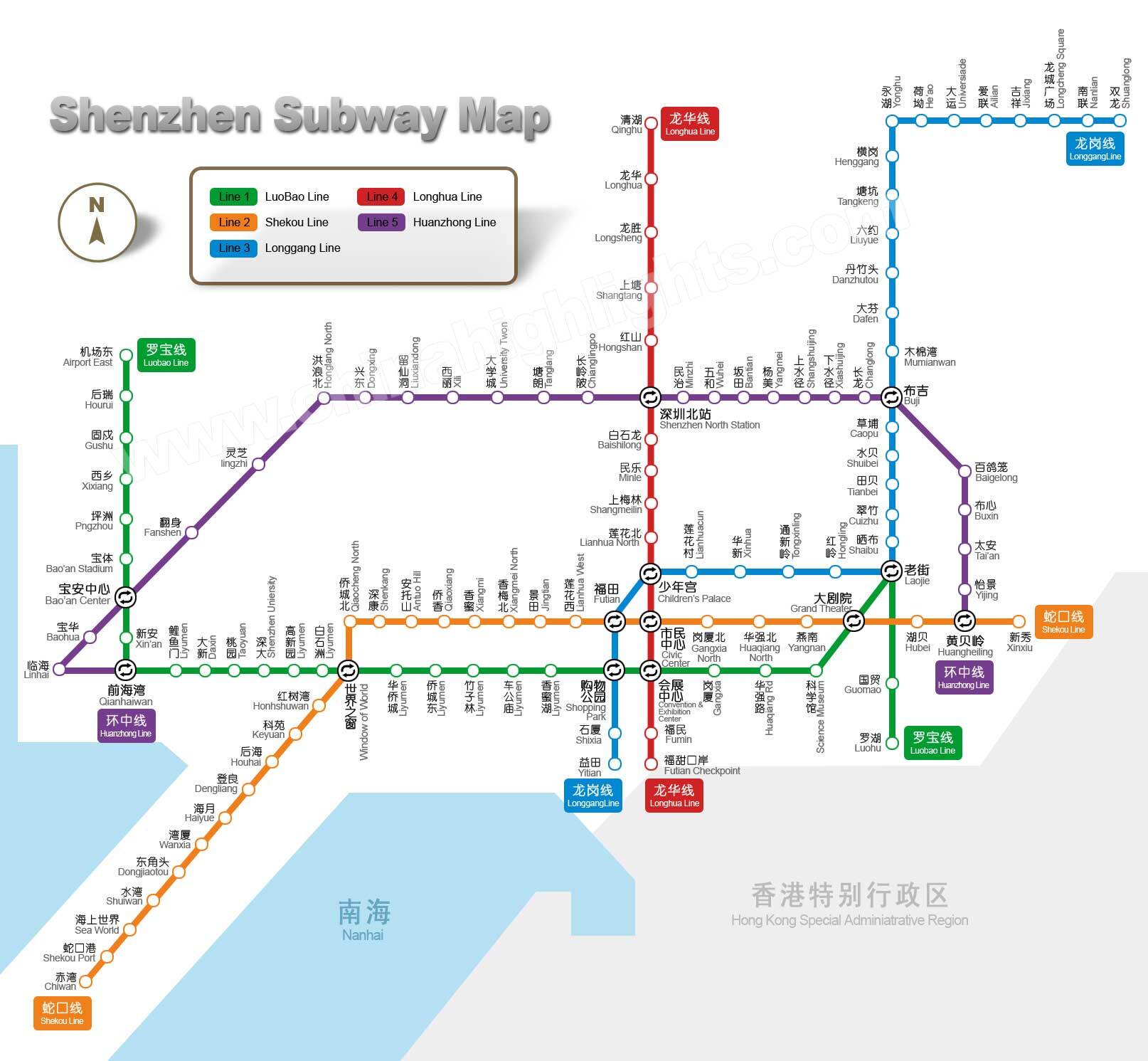 Questions and Answers About Shenzhen Subway Map
mehdi
2013-08-26
Show Answer
how is the whether in shenzen in early september
Hi, September is not as hot as the previous few months, but it is still hot. Average high temperatures are 31 °C (88 °F) and average low temperatures are 24 °C (75 °F). September sees the most rain of the year, and the city is wet. Summer clothing such as T-shirts and shorts are enough. Regards, Coco guest replied on 2013-08-26
eric
2012-11-23
Show Answer
i will be travelling to Shenzhen in 2013 mid Feb . Plstell me about the weather and temp of Shenzhen .Also what kind of dressing will be appropriate ?What is the options to travel from Shenzhen to HongKong , Thim sha tjiuThanks eric
Hi Eric, February is cool in Shenzhen. The temperature is from 13 °C (55 °F) to 20°C (68°F). When it rains sometimes, the temperature will drop several degrees. You can prepare some light jackets, coats and sweaters. From Shenzhen to HongKong , Tsim Sha Tsiu, you can take train at Shenzhen Railway Station(Luohu Railway Station). We are a travel agent, if you need any tour service or hotels/flights booking, please feel free to contact me.
Whitney Liao replied on 2012-11-25
xi ter
2012-09-19
Show Answer
i would like to ask on 2 week of Dec 2013, the weather over shenzhen how?
Hi Xi, December is an ideal time to travel in Shenzhen. The softly blowing sea breeze is quite comfortable. The temperature is 13 °C (55 °F)-21°C (70 °F). It is okay to wear long trousers and a light sweater/jacket during the day, and bring a light coat at night in case it is cold. But for elder people or kids, please prepare warmer clothes.
Whitney Liao replied on 2012-09-20
jkbwan@hotmail.com
2012-07-12
Show Answer
My flight is from gulin to shenzen ZH9838 (22.15-23.25), what is the nearst metro station from airport? Can Shenzhen airport hotel can receive guest at late check in arround 23.50 ? And can i goto buji from metro station near airport (in front of airport shenzen hotel)?
The hotel you booked through us, we'll tell the hotel your flight information, and the hotel knows the estimated time you will arrive in hotel. You could take metro to Buji, but it needs to transfer different line, to take Baoluo Line from Airport East to Laojie Station, and then change to Shuanglong Station to Buji. For more details, you could check with the staff in your hotel. Vanessa Zheng replied on 2012-07-13
April Offer $25 Coupon
Send your inquiry before Apr. 30, 2014, and we will email you a $25 coupon.
The coupon is valid till Dec. 31, 2014, for paying tour packages worth $250 or up.
The coupon cannot be used for paying flight tickets, train tickets, hotel rooms and day trips.
Travel Advice or Question? Ask us here
You might like

Free Things to Do in Shenzhen

Top 3 Camping Sites in Shenzhen

China Highlights
Shenzhen Travel Guide