Shenzhen Weather in March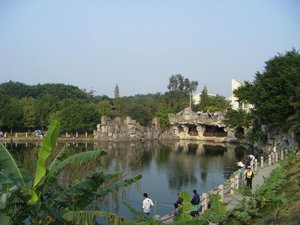 Shenzhen gets warmer starting in March. The average maximum temperature is 23 °C (73°F) and the minimum temperature is 16 °C (61°F). March is milder and has far more rainy days than January and February. A light sweater and thin coat are generally enough. Flowers begin to bloom at the end of this month, making it an ideal time for sightseeing in Shenzhen.
Since the city is crowed with lots of visitors this month, book your hotel rooms and train/flight tickets in advance to avoid delays in your journey. See our Shenzhen Tours.
Shenzhen Average Daily Temperatures Based on Historical Data
Date
Average High
Average Low
March 1
68 °F
20 °C
61 °F
16.11 °C
March 2
69 °F
20.56 °C
61 °F
16.11 °C
March 3
69 °F
20.56 °C
61 °F
16.11 °C
March 4
69 °F
20.56 °C
61 °F
16.11 °C
March 5
69 °F
20.56 °C
61 °F
16.11 °C
March 6
69 °F
20.56 °C
61 °F
16.11 °C
March 7
69 °F
20.56 °C
61 °F
16.11 °C
March 8
70 °F
21.11 °C
62 °F
16.67 °C
March 9
70 °F
21.11 °C
62 °F
16.67 °C
March 10
70 °F
21.11 °C
62 °F
16.67 °C
March 11
70 °F
21.11 °C
62 °F
16.67 °C
March 12
70 °F
21.11 °C
62 °F
16.67 °C
March 13
70 °F
21.11 °C
62 °F
16.67 °C
March 14
71 °F
21.67 °C
63 °F
17.22 °C
March 15
71 °F
21.67 °C
63 °F
17.22 °C
March 16
71 °F
21.67 °C
63 °F
17.22 °C
March 17
71 °F
21.67 °C
63 °F
17.22 °C
March 18
71 °F
21.67 °C
63 °F
17.22 °C
March 19
72 °F
22.22 °C
64 °F
17.78 °C
March 20
72 °F
22.22 °C
64 °F
17.78 °C
March 21
72 °F
22.22 °C
64 °F
17.78 °C
March 22
72 °F
22.22 °C
64 °F
17.78 °C
March 23
72 °F
22.22 °C
64 °F
17.78 °C
March 24
72 °F
22.22 °C
64 °F
17.78 °C
March 25
73 °F
22.78 °C
65 °F
18.33 °C
March 26
73 °F
22.78 °C
65 °F
18.33 °C
March 27
73 °F
22.78 °C
65 °F
18.33 °C
March 28
73 °F
22.78 °C
65 °F
18.33 °C
March 29
73 °F
22.78 °C
65 °F
18.33 °C
March 30
74 °F
23.33 °C
66 °F
18.89 °C
March 31
74 °F
23.33 °C
66 °F
18.89 °C
Shenzhen Climate Information by Month
You might like

Free Things to Do in Shenzhen

Top 3 Camping Sites in Shenzhen

China Highlights
Shenzhen Travel Guide