Sichuan Transport
Sichuan is located in the southwest of China and covers the upper stream of the Yangtze.
As the most developed province and transport hub in southwestern China. It can be reachable by air, by train, by land and by water all around.
Air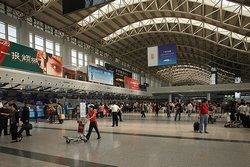 Chengdu Shuangliu International Airport
Chengdu Shuangliu International Airport is the air transport hub in the southwest China. Currently, the total airlines are 102 that domestic service is 96 and 6 international charter flights. The air routes radiate the nation and extend to Bangkok, Hong Kong. Chengdu - Beijing route with a total length of 1,700 km is one of the major domestic flight routes. In addition, Chengdu – Shanghai and Chengdu - Guangzhou also are the main airlines to reach Sichuan. Moreover, other cities within boundaries like Yibin, Xichang, Dazhou and Luzhou also have airports with domestic routes.Visitor can take a taxi to the airport for about 60 RMB.
Highway
It is the main means of transportation in Sichuan. The entire provincial highways take Chengdu as the center: Chengdu - Dujiangyan, Chengdu - Mianyang, Chengdu - Leshan - Mt. Emei, Chengdu - Ya'an as well as Neijiang - Zigong – Yibin, the main scenic spots are well united together by the highways. Therefore, highway is the best transportation means while traveling in Sichuan. Also, the highways communicate well with the neighboring provinces and cities: the Sichuan-Shanxi Highway, the Sichuan-Tibet Highway, Chengdu-Chongqing Highway.
Waterway
Sichuan is one of the most developed waterways' provinces. Yangtze River crosses the province and joins with Min River, Jialing River, Fujiang River, Qu River, Wu River main currents and 120 tributaries. It forms the natural water transportation network and links to the major industrial areas, cities and towns.
Questions and Answers About Sichuan Transport
April Offer $25 Coupon
Send your inquiry before Apr. 30, 2014, and we will email you a $25 coupon.
The coupon is valid till Dec. 31, 2014, for paying tour packages worth $250 or up.
The coupon cannot be used for paying flight tickets, train tickets, hotel rooms and day trips.
Travel Advice or Question? Ask us here

China Highlights