Kreta Ayer Chinatown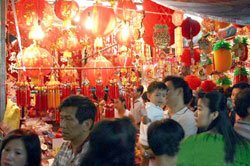 Kreta Ayer is Singapore's Chinatown where Chinese ancestors settled after sailing across the ocean from Xiamen, Fujian, China to Singapore. Traveling by China's first sailing barge they settled south of the Singapore River (which is nowTelok Ayer Street) and gradually developed into a Chinese quarter since 1821. Back then every household there had to drive an ox-cart to Ann Siang Hill to get water so it gradually became known as Kreta Ayer (in Malay), Ox-cart road.
The most exciting time in Kreta Ayer is during the Lunar New Year. At that time the whole area will be all decorated with lanterns and festoons, and shops will be decorated, selling many holiday goods and local snacks.
MRT
To go to Kreta Ayer use the following MRT lines: Outram Park MRT Station of EW MRT Line, station number EW16; Tanjong Pagar MRT Station , station number EW15 and Chinatown MRT Station of NE MRT Line, station number NE4.
Shopping
Strolling along the numerous lanes in Kreta Ayer, you will see various quaint arts and crafts made by local artisans, which you may recognize as traditional Chinese arts, such as handwriting, sculptures, puppets, Buddha statues, joss sticks and candles making, etc. Chinese medicinal herbs shops retain traditional styles and features, and are stored in an astounding number of little drawers.
Dining
Smith Street, lying in Kreta Ayer, is an open-air food street in which you can find the most delicious local snacks, for example, char kuay teows, turnip cakes, Rojak (which is a salad with sweet sauce and crushed peanuts). Most stalls are open from 11:00am to mid-night, with very reasonable prices.
Sri Mariamman Temple, the oldest Hindu temple in Singapore, is located in Chinatown which might seem. Every year the Thimithi will be celebrated here, and the climax of the celebration is that barefoot disciples walk on the lighted charcoals. Sri Mariamman Temple is also the premier place where most Hindus solemnize marriages.

China Highlights