Little India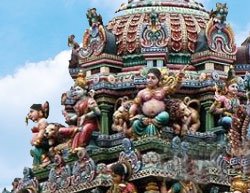 Little India, like a microcosm of India, is an ethnic Indian neighborhood in Singapore. During Deepavali, namely (the) Hindu Festival of Lights, Little India will be decorated as a resplendent and magnificent fairyland.
When Sir Stamford Raffles sailed to Singapore in 1819, he brought with him an entourage of Indian assistants and soldiers who were the first Indian immigrants. Afterwards, more and more Indian immigrants came to Singapore to earn their living, while the Indian ethnic neighborhood also steadily expanded to present scale.
One of the main roads; Serangoon Road, is one of the oldest roads in Singapore. At that time, there was still a large tract of forest which was often infested with beasts and vipers. Residents struck gongs to drive away the wild animals. In the Malay language it's pronounced "di-serang dengan gong". Gradually, it became today's "Serangoon".
Tips: Little India is extraordinarily busy every Saturday and Sunday evening, this because Indian labors in Singapore enjoy coming here to dine, shop or get together with friends. It is relatively quiet during working hours from Monday to Friday.
Transportation
MRT: Little India MRT Station of NE MRT Line, the station number is NE7.
Bus: In Orchard Road you can take SBS 64, 65 or 111 to Serangoon Road
Shopping
Sells goods with Indian national characteristics, such as silverware, brassware, jewelry, jasmine wreaths, Indian curry powder and silk saris.
Dining
You can have birnayi from the Banana Leaf Apolo and the Muthu's Curry Restraurant, and vegetarian snacks from Komala's.
Sakyamuni Buddha Gaya Temple was originally established by Thai monk Vuthisasara in 1927, keeping lots of Buddhist antiquaries. What is the most remarkable is a 15m high Buddha statue, which weighs 350 tons.
Sri Srinivasa Perumal Temple, within a 20m high Gopuram, was built in 1885. The temple dedicates Lord Vishnu. During Deepavali, the parade will set off the temple. The temple is free.

China Highlights