Night Safari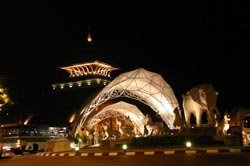 The Night Safari is the world's first nocturnal zoo. It is situated in the zoo within the dense vegetation of the secondary forest. You can visit the zoo on foot or by the silent tram cars.
The Night Safari houses 130 animals, of which 35% are threatened species. Under the special moonlight-like illumination, you will be able to observe the tracks of those nocturnal animals in the wide natural habitat.
Tips: Please do not use flash lamp when you take a photograph, or you will frighten animals.
MRT or Bus Line:
Choa Chu Kang MRT Station of NS MRT Line, station number NS4; transfer SMRT 927.
Ang Mo Kio MRT Station of NS MRT Line, station number NS16; transfer SBS 138..
Ticket: Adult is 20 SGD, and child (ages 3 to 12) is 10 SGD.
Opening Time: 19:30 to 0:00 daily (Ticket Sales End at 23:00).
Tour Time: It takes about 3 hours. Tram tour time is about 45 minutes.
The Animal Performance Creatures of the Night Show: This show is held in the amphitheatre of the zoo every night. Its program format is innovative. It presents specific natural habits of the nocturnal animals by means of entertainment through stage lighting and impressions. The animals shown in the performance include pumas, binturongs, clawless otters and reticulated pythons.
Show Time: It is at 20:00, 21:00 and 22:00 daily (depending on the weather).
In addition, there is also the Thumbuakar Bornean Tribal and Dance Performance (at 19:00, 20:30 and 21:30 daily).

China Highlights