Raffles Hotel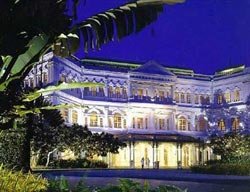 Raffles Hotel is a grand, colonial-style hotel in Singapore. The Armenian Sarkies brothers started the hotel in 1887 as a 10-room bungalow. They named the hotel after Singapore's founder, Sir Stamford Raffles. Over the years, additional buildings and wings were added to the hotel. In 1987, the Singapore government declared the hotel a National Monument. In March 1989, the hotel was closed for a multi-million dollar renovation that lasted more than two years. All the rooms were made into suites, with high ceilings, teakwood floors and handmade rugs. Breezy verandas look out over lush gardens. The hotel reopened in September 1991. This world-class hotel has numerous restaurants and bars, spas, outdoor swimming pool, shopping arcade, business center, meeting rooms, gymnasium, museum, and theater.
Raffles Hotel has won numerous awards throughout its long history. The hotel has played host to many dignitaries, chiefs of states, artists, writers, business people, socialites, movie stars, and the rich and famous over the years. William Somerset Maugham, Noel Coward, Joseph Conrad, Rudyard Kipling, Queen Elizabeth II, Charlie Chaplin, Diane von Furstenberg, Elizabeth Taylor and others have stayed here.
Location
Conveniently located at 1 Beach Road, the hotel is close to the heart of businesses and government centers. It is 20 minutes from the airport and is within walking distance to the Singapore International Convention and Exhibition Center. It can be reached easily by Mass Rapid Transit train.
Room rates
Room rates at the hotel range from 620 SGD (advance booking) to over 900 SGD for one night.
Shopping
Designer fashions, footwear, watches, jewelry, crystals, silks, art galleries and antique shops can be found on two levels of the hotel Arcade.
Dining
There are a variety of dining options, from bakery and café to creamery, deli, bar and billiard room, steakhouse, and restaurants. Tiffin Room is known for its curry buffet. The Bar & Billiard Room features martinis, cognacs, champagnes, chocolates, coffee, Cuban cigars, and a seafood buffet.The Long Bar, home of the "Singapore Sling" cocktail, serves pub favorites and drinks.
Theater
Jubilee Hall is a 388-seat Victorian theater with velvet curtains and comfortable seats. A 25-minute video about the history of Raffles Hotel is played everyday.
Raffles Museum
This museum showcases the rich history of the Raffles Hotel. There are displays of artifacts and memorabilia from hotel guests; luggage labels, photographs, letters, postcards, travel guides, menus, hotel silver and china, and rare editions of the works of famous writers who stayed there. The collection of 19th century photographic histories of Singapore and Southeast Asia are a must see.
The Museum is open from 10:00am to 7:00pm daily. Admission is free.
Website
Raffles Hotel has an excellent website for those interested in details about its history, services and amenities.

China Highlights