Universal Studios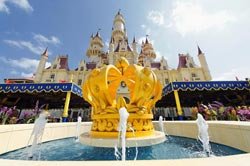 Kreta Ayer is Singapore's Chinatown where Chinese ancestors settled after sailing across the ocean from Xiamen, Fujian, China to Singapore. Traveling by China's first sailing barge they settled south of the Singapore River (which is nowTelok Ayer Street) and gradually developed into a Chinese quarter since 1821. Back then every household there had to drive an ox-cart to Ann Siang Hill to get water so it gradually became known as Kreta Ayer (in Malay), Ox-cart road.
The most exciting time in Kreta Ayer is during the Lunar New Year. At that time the whole area will be all decorated with lanterns and festoons, and shops will be decorated, selling many holUniversal Studios Singapore is a popular theme park with in Resorts World Sentosa. The theme park, opened in March 2010, incorporates highlights of the three existing Universal Studios in Hollywood, Orlando, and Osaka, Japan. Universal Studios Singapore has 24 roller coasters and attractions, 18 of which are designed for this location. A monorail system connects the resort to mainland Singapore.
Themed Zones
Seven themed zones surround a lagoon. These are:
"Hollywood", "New York", "Sci-Fi City", "Ancient Egypt", "The Lost World", "Far Far Away" and "Madagascar".
Each zone has its own unique attractions, rides, shows, displays, shopping and dining.
Rides, shows and displays include the thrilling roller coaster Battlestar Galactica in "Sci-Fi City"; Revenge of the Mummy Ride, pyramids and obelisks in "Ancient Egypt"; "Far Far Away" Castle featuring lifestyles of the rich and famous; dragon roller coaster rides and miniature ferris wheel based on the movie Shrek; the "Hollywood" Boulevard Walk of Fame and the 1500-seat indoor theater; the "Madagascar" tropical jungle inspired by DreamWorks Animation's hit movie Madagascar; the sidewalks, facades, neon lights and skylines of "New York".
Universal Studios Singapore also has the world's largest Marine Life Park.
Hotels
There are six hotels decorated in distinctive styles as well as a high-end spa resort, nightclubs and gaming halls.
Restaurants
There are more than 60 different restaurants, cafes, food carts, clubs and bars in Universal Studios Singapore. Each subject zone offers a wide range of gourmet foods to choose from. The burger hut Mel's Drive-in, based on the classic movie American Graffiti, is in the "Hollywood" zone. Those visiting "New York" may be served Authentic New York Grill cuisine at KT's Grill, or taste veritable New York style pizzas at Loui's NY Pizza Parlor. In "Ancient Egypt", the Oasis Spice Cafe is the place for food and drink. In "Far Far Away", there are food and beverages inspired by animated characters of Far Far Away. Delicious snacks from Gloria's Snack Shack or specialty beverages from Marty's Casa Del Wild are available in "Madagascar".
Shopping
There are 45 retail outlets offering world-class goods and souvenirs.
Business Hours
10am to 7pm. Hollywood Boulevard is open till 10pm on Fridays and Saturdays.
Admission
One-dayPass
Weekdays (excluding blackout dates): Adult (age 13-64): 66 SGD; Child (age 4-12): 48 SGD; Senior (age 65 and above): 32 SGD
Weekends: Adult: 72 SGD; Child: 52 SGD; Senior: 36 SGD
Two-dayPass: Adult: 118 SGD; Child: 88 SGD; Senior: 58 SGD
Annual Fun Pass: Adult: 318 SGD; Child: 238 SGD; Senior: 188 SGD. Free admission within the year except for blackout dates.
Annual Superstar Pass : Adult: 1098 SGD; Child: 828 SGD; Senior: 738 SGD. Free admission within the year for shopping, dining, event tickets and hotels.
Blackout dates are major holidays and days in high demand.
iday goods and local snacks.
MRT: To go to Kreta Ayer use the following MRT lines: Outram Park MRT Station of EW MRT Line, station number EW16; Tanjong Pagar MRT Station , station number EW15 and Chinatown MRT Station of NE MRT Line, station number NE4.
Shopping: Strolling along the numerous lanes in Kreta Ayer, you will see various quaint arts and crafts made by local artisans, which you may recognize as traditional Chinese arts, such as handwriting, sculptures, puppets, Buddha statues, joss sticks and candles making, etc. Chinese medicinal herbs shops retain traditional styles and features, and are stored in an astounding number of little drawers.

Dining: Smith Street, lying in Kreta Ayer, is an open-air food street in which you can find the most delicious local snacks, for example, char kuay teows, turnip cakes, Rojak (which is a salad with sweet sauce and crushed peanuts). Most stalls are open from 11:00am to mid-night, with very reasonable prices.
Sri Mariamman Temple, the oldest Hindu temple in Singapore, is located in Chinatown which might seem. Every year the Thimithi will be celebrated here, and the climax of the celebration is that barefoot disciples walk on the lighted charcoals. Sri Mariamman Temple is also the premier place where most Hindus solemnize marriages.

China Highlights