Singapore Food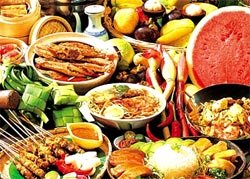 In Singapore, which has long been called the "the Gastronomic Capital of Asia", a Gourmet Festival would be held every April. It would last for about one month. During the period, you could see the first-class cooking skills of the Eastern and Western worlds.
The renowned delicacies including Satay, Laksa, Bak Kut Teh, Hainan Chicken Rice, Roti Prata, Teh Tarik, Nonya Cake, Fried Kueh Teow, Fried Radish Cake, Fish Head Curry, Spicy Crab and Black Pepper Crab can not be missed. There are a lot of destinations for authentic delicacies. You could enjoy the Chinese food in the Chinatown in Singapore, have a taste of the authentic Indian delicacies at Little India, and savour the Nonya Cake along with the special cafe with local characteristics in Kopi-C. There are some other famed destinations for delicacies such as Chijmes, Robertson Quay, Novotel Clarke Quay, Club Street, Far East Plaza, the Esplanade, One Fullerton, Orchard Road, Stadium Riverside and the Oasis.
Recommended Destinations for Delicacies:
Chinatown Food Street,
Lau Pa Sat,
Geylang Delicacies Street,
Newton Circus Food Centre,
Katong Food Street ,
East Coast Seafood Center
1. Chinatown Food Street
Located in the Smith Street, Chinatown Food Street is quite a place to taste delicious food. There are 18 food stands and 12 restaurants. It is where you could savor the authentic South East Asian food, for example, Satay, Chee Cheong Fun, Fishball Noodle, Mutton Broth, Thin Pancake, Sea Food Barbecue, Prawn Noodles and so on. In the old and famed restaurants, you could taste the delicious and tasty specialties with reasonable prices.
It is open from 11 a.m. to 11 p.m. When the night falls, the food street would gradually be crowded with people.
Transportation: Chinatown MRT
Lau Pa Sat
Lau Pa Sat means "bazaar" in Malay. Hundreds of all kinds of stands gather in this delicacies center, which was built in 1894 with the Victorian architecture style. It is a good place to savour various kinds of delicacies of Singapore. Peddlers would push their wheel barrows to the Boon Tat Street near the Lau Pa Sat and sell savoury delicacies including satay, filling the street with the scent of delicacies.
Address: Boon Tat Street
Transportation: Get to the Raffles Place (NS26/EW14) by subway and then walk to the Robinson Road.
Geylang Delicacies Street
Geylang is a well-known destination for night snacks, where there are restaurants of various flavors. What you name, you could find it there. There is Vegetarian Food, tonic, Thailand cuisine, northern dumplings, southern desserts, Cantonese cuisine, Chaozhou congee, Fujian cuisine, Fish Head Curry, Deep-Fried Dough Sticks and soybean paste, wheaten food, etc. Many pubs and cafes concentrate there. There are quite a lot of tropical fruits stands on the Sims Ave. It is especially famed for selling durian, which even gets a unique and specific name - "selling liveliness".
Transportation:
Take the subway and get off at Ajunid MRT;
Take the buses NO. 2, 7, 13, 21, 24, 26, 28, 30, 40, 51, 60, 60X, 61, 63, 67, 70, 70X, 76, 93, 94, 135, 154, 155, 197 or 853C
4. Newton Circus Food Center
There are a number of food centers in Singapore. They are also named cooked food centers. It refers to the concentrated area of individual peddlers, who are selling the tasty but cheap food at the open-sided stalls. You could enjoy the delicacies from Malaysia, Indonesia, India as well as China.
The Food Centre has a long history. It was built especially for the paddlers on the Orchard Road in 1971. It is strongly recommended by the Singapore government. There are delicacies involving black pepper crab, seafood barbecue, fried oyster, Fujian Fried Noodle and so on. They are sold at a reasonable price and loved by many gourmets.
Address: Clemenceau Ave North
Transportation:
Take the subway and get off at NS21;
Take the buses NO. 54, 66, 67, 124, 143, 162, 162X, 167, 170, 171, 518, 700, 700A or 960
5. Katong Food Street
Located in the east of Singapore, Katong refers to the area from Tanjong Katong Road to East Coast Road. It used to be inhabited by Peranakan Chinese, and therefore, most of the houses have two storeys, which is the feature of the houses built before the War of Liberation in China. It is where you could savour all kinds of local snacks. There is one among them that could not be missed for sure. That is the genuine Katong Laksa, which continuously attracts numbers of tourists. The old-style bread and Western cake made by the Katong Bread Plant, Hainan Chicken Rice, Nonya Cake, Ampang Niang Tofu, Dried Tofu Package and Katong rice dumpling are also worth tasting.
Transportation: Take the buses NO. 10, 12, 14, 219, 32, 40 or 608 to the East Coast Road.

China Highlights