Hanshan Temple
Right on the Grand Canal, the Hanshan Temple has become the city's most important landmark. The temple was first built between the years 502-519. It was named after Han Shan, a Tang-dynasty monk who lived there. Through the years, the temple had undergone several rounds of destruction and restoration. The existing one is a late-Qing architecture work.
The temple has been immortalized by the famous poem Anchorage by the Maple Bridge written by the prominent Tang Dynasty poet, Zhangji. Zhang's poem reads" The moon is down, the raven calls, the cold frost fills the sky; Off near the Gusu Town( Suzhou) as midnight passes by. The chiming of a temple bell comes to my boat tonight". Visitors can still see the Maple Bridge and the stone inscription of the poem. A large bell not the original one mentioned by Zhangyi in his poem hangs in the bell tower. The original Song bell was somewhere in Japan and this one was contributed by some Japanese. Many Chinese tourists will like to pay a small fee to strike the bell for this practice is believed to bring good luck.
Questions and Answers About Hanshan Temple
April Offer $25 Coupon
Send your inquiry before Apr. 30, 2014, and we will email you a $25 coupon.
The coupon is valid till Dec. 31, 2014, for paying tour packages worth $250 or up.
The coupon cannot be used for paying flight tickets, train tickets, hotel rooms and day trips.
Travel Advice or Question? Ask us here
You might like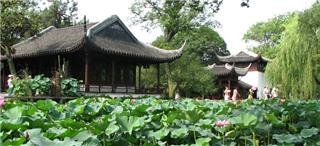 Free Things to Do in Suzhou

China Highlights
Suzhou Travel Guide