Zhouzhuang Water Town
Zhouzhuang lies at the middle between Shanghai and Suzhou, is an ancient town of Kunshan City, Jiangsu Province, where abounds with rivers and lakes. So it is thought by many to be the best waterside town in China. This ancient town has a history of more than 900 years old with many houses built in the Ming and Qing Dynasties. There are about 100 houses with courtyards, and 60 of them have arch gateways made by carved bricks.
With lakes on four sides, the beauty of Zhouzhuang is specially to be found along the waterside lanes and around a number of the stone bridges. A different vista at every turn can be found here. All those make a visit most enjoyable. Also, one can enjoy the fairyland atmosphere of the evenings here when the myriad stars twinkle as though in communication with the glittering lights.
Attractions
Water Lanes & Stone Bridges
water lanes of Zhouzhuang Water Town
The layout of the water lanes in Zhouzhuang resembles a Chinese character "#". Many stone bridges are built over them, linking houses on both sides of each stream. These stone bridges are very old. 14 of these were built in the Yuan, Ming and Qing Dynasties. Representatives of these are the Twin Bridges, Fu'an Bridge, Zhenfeng Bridge and Fuhong Bridge.
From the "Heaven on Earth" to the Water Village
Suzhou is China's well-known "city of gardens". Distinctive garden art came to its zenith during the Ming and Qing dynasties. The city and its outskirts are dotted with exquisite private gardens. Dozens of them, such as Zhuozheng (Humble Administrator's) Garden, Liuyuan (Lingering) Garden, Wangshi (master of nets) Garden and Huanxiu (Embracing Beauty) Mountain Villa are well preserved today.
The charms of mountains, forests, trees, flowers and springs can be appreciated without going out of the noisy surroundings of the town. To see the water villages, the city should be toured by rickshaw or by boating down the rivers, passing old-styled bridges and ancient houses along the way.
The Twin Bridges
To the northeast of the town are the twin Shide and Yong'an Bridges. They were built between 1573 and 1619.
The area is crisscrossed by the Yinzi and Nanbei rivers. To serve these rivers, one bridge is built in a north-south direction and the other in an east-west direction. Each bridge has one square and one round opening that look like ancient keys, hence they are also known as the Key Bridges. In 1984, Chen Yifei, a young artist residing in the United States, painted a picture of the Double Bridge and named it "Memories of Hometown". The painting, with Chen's 37 other works, were exhibited and bought by Dr. Armand Hammer, an American oil tycoon, and later presented to the late Deng Xiaoping.
Fu'an Bridge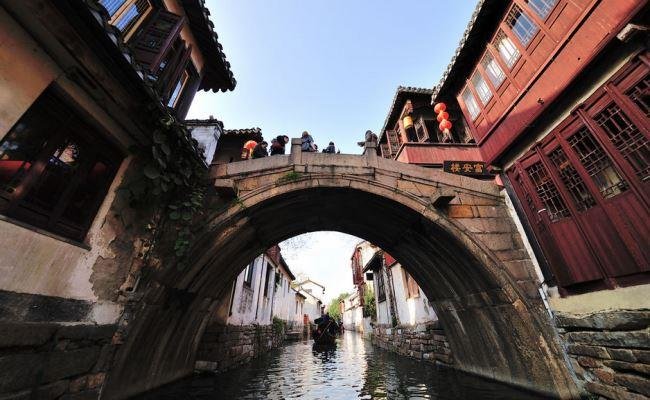 Fu'an Bridge
Fu'an Bridge is located at the east end of Zhongshi Street, crossing the Nanbeishi River and leading to Nanbeishi Street.
It was built in 1355, and later rebuilt by Shen Wansi, younger brother of Shen Wansan. There are towers on all four corners. Each side has carved beams and painted rafters. People can now enjoy local foods and shopping in the towers.
Zhenfeng Bridge
Zhenfeng Bridge sits on the west mouth of the Zhongshi River, and connects the Zhenfeng Lane and Xiwan Street. It was built in the Ming and Qing Dynasties, and is well preserved today.
Zhouzhuang has about 1000 households who are living in the old dwelling quarters built in the Ming, Qing dynasties and the early Republic of China. More than 60% of these houses are well preserved. There are 100 houses with courtyards and 60 of these have arch gateways made by carved bricks. The houses of both Zhang and Shen families have remained intact and serve as excellent examples of traditional Chinese architecture
Shen's House
Shen's House is located to the southeast of Fu'an Bridge, on Nanshi Street. Shen Benren built it in 1742 during the Qing Dynasty. He was a descendant of Shen Wanshen: a wealthy man in southern China in the late Yuan (1206-1368) to early Ming Dynasties.
The compound has seven courtyards, five archways and more than 100 rooms of different sizes. Covering an area of 2000 square meters, it was built along both sides of a 100-m-long axis.
There are three sections. The first section includes the water gate and wharf for mooring boats and washing. The second section consists of the Tea Hall and Main Hall for receiving guests and holding weddings or funerals. The rear part serves as living quarters.
The Main Hall covers 170 square meters. The 6-m-high carved brick archway, facing the Main Hall, has a horizontal board bearing the inscription Jihouliuguang (do more good forever). Around the board are relief sculptures of figurines, animals, pavilions and opera characters.
Zhang's House
Zhang's House is located to the south of the Twin Bridge on Beishi Street. It was built between 1436 and 1449 by the offspring of Xu Kui, the brother of Zhongshan King Xu Da. After it was sold to the Zhang family in the early Qing Dynasty, it became known as either Yuyan (Jade Swallow) Hall or Zhang's House.
Covering more than 1800 square meters, the house has 6 courtyards and more than 70 rooms. The main courtyard has buildings facing east and west, with long and short windows. Yuyan Hall is the main building. The hall is large and bright with grand columns on large pier bases, a rare Ming style. A river flows under the hall. A square pool built in the middle section allows boats to turn round. Its rear hall has open windows and balconies facing the water with a backyard of various plants and flowers.
The place is now an important cultural relic under the protection of the provincial government.
Ye Chucang Residence
Born in Zhouzhuang, Ye Chucang (1887-1946) was a poet and a statesman. He was a graduate of Suzhou High School. When he came home during one winter vacation, he saw the destructive effects of gambling and opium on the population. He was credited with organizing a group of young people to publicize and steer people away from these harmful activities.
His residence, Zuyin Hall, located on Xiwan Street facing north, was built in the Qing Dynasty and has five courtyards. The Main Hall was his studio and the Rear Hall was a place where he received friends.
Accommodations
Most of the star-grade hotels in Zhouzhuang are located in the New City area and there are many, including the Zhouzhuang Hotel, Zhouzhuang Grand Hotel, Yunhai Resort and many more. A lot of private guesthouses have also been built.
Questions and Answers About Zhouzhuang Water Town
Chotikarn Chitchaina
2011-09-19
Show Answer
How is weather at the end of year as I plan to go there this new year?
Dear Chotikarn Chitchaina, Based on the former date, in the end of the year, the temperature is about 5-10°C. It will be cold and you should take a down jacket. Suzhou is well-known for its ancient gardens. There are some tour packages on our website. You can check it if you are interested in it. Click here:http://www.chinahighlights.com/suzhou/tours.htm As our packages are private tours, I can revise it based on your need. Please feel free to let me know your travel plan. My e-mail address is lussie@chinahighlights.com Lussie Lu replied on 2011-09-19
April Offer $25 Coupon
Send your inquiry before Apr. 30, 2014, and we will email you a $25 coupon.
The coupon is valid till Dec. 31, 2014, for paying tour packages worth $250 or up.
The coupon cannot be used for paying flight tickets, train tickets, hotel rooms and day trips.
Travel Advice or Question? Ask us here
You might like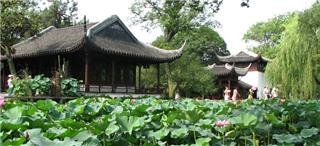 Free Things to Do in Suzhou

China Highlights
Suzhou Travel Guide