Beihai Wetland Nature Reserve
The picture on the right is Beihai Wetland Nature Reserve in Tengchong, taken on November 4th, 2012.
Located in the southwest of Tengchong County in Yunnan Province, Beihai Wetland is one of the 33 first-announced National Wetlands. It is the only national-level wetland reserve in Yunnan.
Surrounded by mountains on its four sides, Beihai wetland is part of the ecosystem of a volcanic lake plateau. With an area of 16 square kilometers, the wetland reserve is a large grassland area, seemingly floating on the water.
In the photo a farmer is driving his water buffalos through the wetland (November 4th, 2012).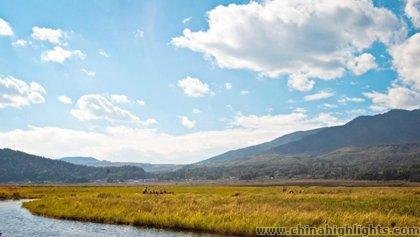 Tourists are enjoying boat trips in the reserve (November 4th, 2012).

China Highlights
Tengchong Travel Guide
Tengchong Top Attractions