Koh Samui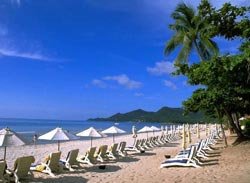 Samui is a beautiful tropical island. It is the third largest island in Thailand, and about forty thousand people live there. It is known for its coconut plantations and for its hills on which there are still forests for hikers. Koh Samui is part of an island chain, and the islets in the chain are mostly uninhabited and great for swimming or snorkeling. The small islands are a protected in the Ang Thong National Marine Park. Koh Samui is about 25 kilometers long and about 21 kilometers wide. It is the second most popular island destination after Phuket, has an international resort, and is a good place to enjoy the sea and nature. See things to do in Thailand

In the early 1970s, backpackers started to arrive on local boats. During the 1990s, there was a tourist boom. It is popular because there are white sandy beaches, dazzling coral reefs, lagoons, waterfalls, clear water, and places to hike in the hills. Now the most popular beaches at Chaweng and Lamai are overcrowded during peak seasons. Chaweng Beach has the biggest resorts, and Lamai Beach is known for its white sands.
There is a small airport on the island called Ko Samui Airport (USM). Bangkok Airways and Thai Airways both have flights there. But the tickets are expensive by Thai standards. It is cheaper to first go to Surat Thani on the mainland and take a ferry. There are bus and ferry services to Ko Samui from both the train station at Surat Thani and the Surat Thani Airport (URT). The cost of the trip to the island is about 300 Baht or about 10 USD.

China Highlights