Pattaya Resort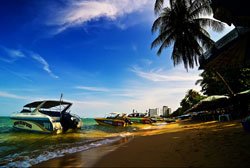 If you want to enjoy the beaches and the sea, then Pattaya is one of the three most popular beach and resort areas(See things to do in Thailand). It is in Eastern Thailand that is a small region just to the east of the Bangkok metropolitan area. However, since it is so close to Bangkok, about 160 kilometers away, the beaches and resorts are crowded. Pattaya was infamous during the Vietnam War era because it became a place with a lot of prostitution and etcetera for the allied troops. Then it became heavily polluted. Now, it is repackaged as a beach resort for families, but it is still a place known for prostitution, bars, and clubs.
A lot of conferences are held in Pattaya. Local officials have tried to promote Pattaya as a conference hosting location. There are also golf courses, and there are a lot of companies selling and renting many different kinds of sports equipment. The area has about 5 million visitors a year, and Thai citizens enjoy it as a getaway resort area. There is a Ripley's Believe It or Not museum on the third floor of the Royal Garden Plaza. They charge tourists more for tickets than they charge Thai people. There are also submarines for tourists to ride to see the view below the waves.
Travel to Pattaya is easy. There is a regional airport near it called the U-Tapao Airport that is 30 kilometers or about 20 miles to the south. The call letters are UTP. There are no flights to Bangkok, but there are flights to the other two most popular beach resort areas called Ko Samui (USM) and Phuket (HKT).
You can travel directly to Pattaya from Suvarnabhumi International Airport (BKK) as well. It is about 110 kilometers from Pattaya. So it takes an hour or two to travel depending on the weather conditions. See Thailand weather

China Highlights