Thailand Things to Do
Hiking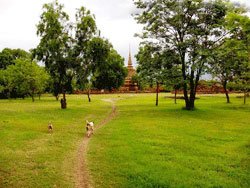 Hiking
If you want to go hiking in forests, the high forest covered hills in Northern Thailand and the jungle in Isan are places to go. The north of the country is a large region and is mountainous, with the highest point being Doi Inthanon at 2,565 meters (8,415 feet) above sea level. In this region, there are hill tribes to visit, places to river raft, and lots of places to hike since there are many parklands. In this area also, is an old capital called Sukhothai with ruins that date from about 1300 AD. The ruins and temples are in good condition. The city of Chiang Mai is the second-largest city in Thailand, and it has lots of tourist hotels that range from luxury-class to backpacker hostels. China Highlights can help you design a tour to Thailand.
Doi Inthanon is the highest mountain in Thailand, and there is a national park protecting it. There is a popular hiking trail that begins at Mae Klang Waterfall. There are several Karen tribal villages where hikers can stay over night in. The hike up may take two or three days. During the journey, hikers will enjoy the high mountain environment and see the lives of Karen villagers. Besides this mountain, there are many other high mountains and parklands to chose from that have a variety of animals including elephants, various types of primates, snakes and water buffaloes. If you go hiking, study up beforehand about potential dangers that you might encounter and precautions you should take.
Isan is another place where people go hiking in Thailand. It is a big region in the northeast of Thailand and is located on the Khorat plateau. It is adjacent to Vietnam, and it is about 1/3 of Thailand's entire land area. The majority of the people are farmers, and a lot of rice and other crops are grown there. Thailand is the world's number one rice exporter. The food is hot and spicy, and there are festivals and ceremonies people can watch, and there are lots of ancient Buddhist temples that date from the Khmer Empire times and afterwards. The major hiking and scenic area in the region is the Khao Yai National Park. The national park area stretches about 200 kilometers between Ta Phraya National Park on the Cambodian border in the east and the western border of Khao Yai National Park. In this area, there are four national parks and one wildlife area and lots of places to hike. You can find places to camp too. Since there are many snakes in the area, it might be best to hire a guide or at least go in groups with an experienced hiker.
Beaches and Sea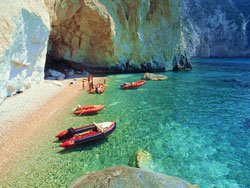 Beaches and Sea
If you want to enjoy the beaches and the sea, then East Thailand and especially Southern Thailand are the places to go. Eastern Thailand is a small region just to the east of the Bangkok metropolitan area. However, since it is so close to Bangkok, the beaches and resorts are crowded. Pattaya was infamous during the Vietnam War era because it became a place with a lot of prostitution and etc. Then it became heavily polluted. Now, it is repackaged as a beach resort for families. But since it is only 160 kilometers from Bangkok, it is crowded. Ko Samet is a popular island and beach area that is about 220 kilometers (about 140 miles) southeast of Bangkok. Not far from there is Ko Mun Nork where there is a single resort, and the beaches are not crowded. The Ko Chang Archipelago is comprised of almost 50 islands. Some islands are better and less crowded than others, so do some study before choosing where to go. Ko Chang is the main island of the archipelago. It is about 300 kilometers or about 190 miles from Bangkok. Ko Chang is about 30 kilometers long and almost 14 kilometers wide and totals about 200 square kilometers or 77 square miles. The island is hilly and is covered by tropical rain forest and some small touristy towns. Instead of Ko Chang, the smaller islands might be more fun for a quiet getaway. On the quiet beaches in the island chain, you can roast fish and investigate streams and waterfalls. See famous beaches in Thailand: Pattaya, Phuket and Koh Samui.
In Southern Thailand, there are world-class luxury resorts on the Andaman Sea at Phuket, Krabi, and Phang Nga. Phuket and Krabi are near each other, and in between there are lots of small islands of which many have accommodations or at least natural beaches. Phuket is Thailand's largest island. There are a dozen of major beaches, and it has its own airport.
Less than a hundred kilometers to the east on the mainland is Krabi. There is the town of Krabi in Krabi Province. Krabi is now a top destination for people who love beaches and islands, and there are several Thai national parks. The Ko Lanta National Park includes several coral-fringed islands with well-known diving sites. The fishing is good there. There is an international airport called Krabi Airport near the town of Krabi.
Phang Nga is a small district that has lots of islands and park areas, and it is a great place for outdoor activities such as diving, fishing, canoeing and hiking around the area. The coastlines of the mainland and the islands and islets have lots of mangroves, small coves, limestone caves and rivers with fascinating cave systems to explore, so these are great areas to kayak or canoe or just try the fishing. There are 18-hole golf courses and spas too.
Active Temples and Ancient Ruins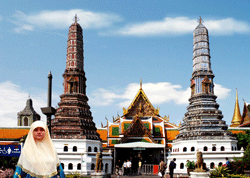 Active Temples and Ancient Ruins
If you want to see Buddhist temples and ancient ruins, then the Central Plains of Thailand, Northern Thailand, and Isan are the places to go. It is said to be a country with 40,000 temples, and 33,000 of them are active. Thailand is heavily Buddhist. The kind of Buddhism is called Theravada Buddhism. It differs from the Mahayana Buddhism in China and Vietnam in that this branch of Buddhism is more distinctly Indian. Mahayana Buddhism originated in Central Asia. You can find both active temples and old ruins.
The holiest active temples are in the capital city that is called Bangkok. Wat Phra Kaew is considered the most holy temple, and it is in the precinct of the Thai Royal Grand Palace. The architecture is distinctively Thai with a golden stupa. This is such a holy temple that visitors have to dress specially to enter. It isn't really a tourist site. The Grand Palace itself is kind of amazing because it survived as the residence of the royal clan until modern times without the destruction and lootings that other such ancient palaces in other countries have gone through. So you can see lots of precious and very old artwork and lots of gold. The Grand Place area covers about 218,400 square meters or about 54 acres and is surrounded by walls built in 1782. Within these walls are government offices and the Royal Chapel of the Emerald Buddha and the royal residences.

Adjacent to the Grand Palace in Bangkok is Wat Po — the Temple of the Reclining Buddha. It has thousands of Buddhas along with one of the biggest that is covered with gold leaf and is reclining. It is known for its Thai message school. It also has an active school for monks.
If you want to see ancient temple ruins, there are several major sites in North Thailand, the Central Plains, and in Isan. The historic city of Ayutthaya was a major city that was founded in 1350, and it is a UNESCO World Heritage Site. It is only about 50 kilometers (about 30 miles) from Bangkok. It was the capital of the Siamese Ayutthaya Kingdom until it was destroyed by Burmese in the 1700s. There are gigantic monastery ruins. The city was founded by King Ramathibodi. The Ayutthaya Kingdom became powerful and rich, and they subjugated the Kingdom of Sukhothai to the north.
In the region of Northern Thailand, there are the ruins of the first Siamese capital city called Sukhothai. The Siamese became the largest population in the area after the decline of the Khmer empire. The kingdom of Sukhothai is often considered to be the first Thai kingdom. The Sukhothai kingdom was founded in 1238, and Intradit became the first king. Forty years later, Ramkhamhaeng became the third king in this era, and he is often considered as one of the most important figures in the Thai history. Ramkhamhaeng was the inventor of the Thai written language. Sukhothai became a vassal state of Ayutthaya in 1378.
The area of Thailand near Vietnam and Cambodia called Isan was once part of the Khmer Empire. There are ancient Buddhist temple ruins of that empire. In the 8th century, the Khmer Empire started to expand outwards. Their capital was Angkor. They took over the Isan area and left their temple sites in their style of architecture that was derived from India.

China Highlights