Tianjin Subway Map
This Tianjin subway map shows Tianjin's four subway lines in an easy-to-follow diagram, with color-coded lines and station names in both English and Chinese characters.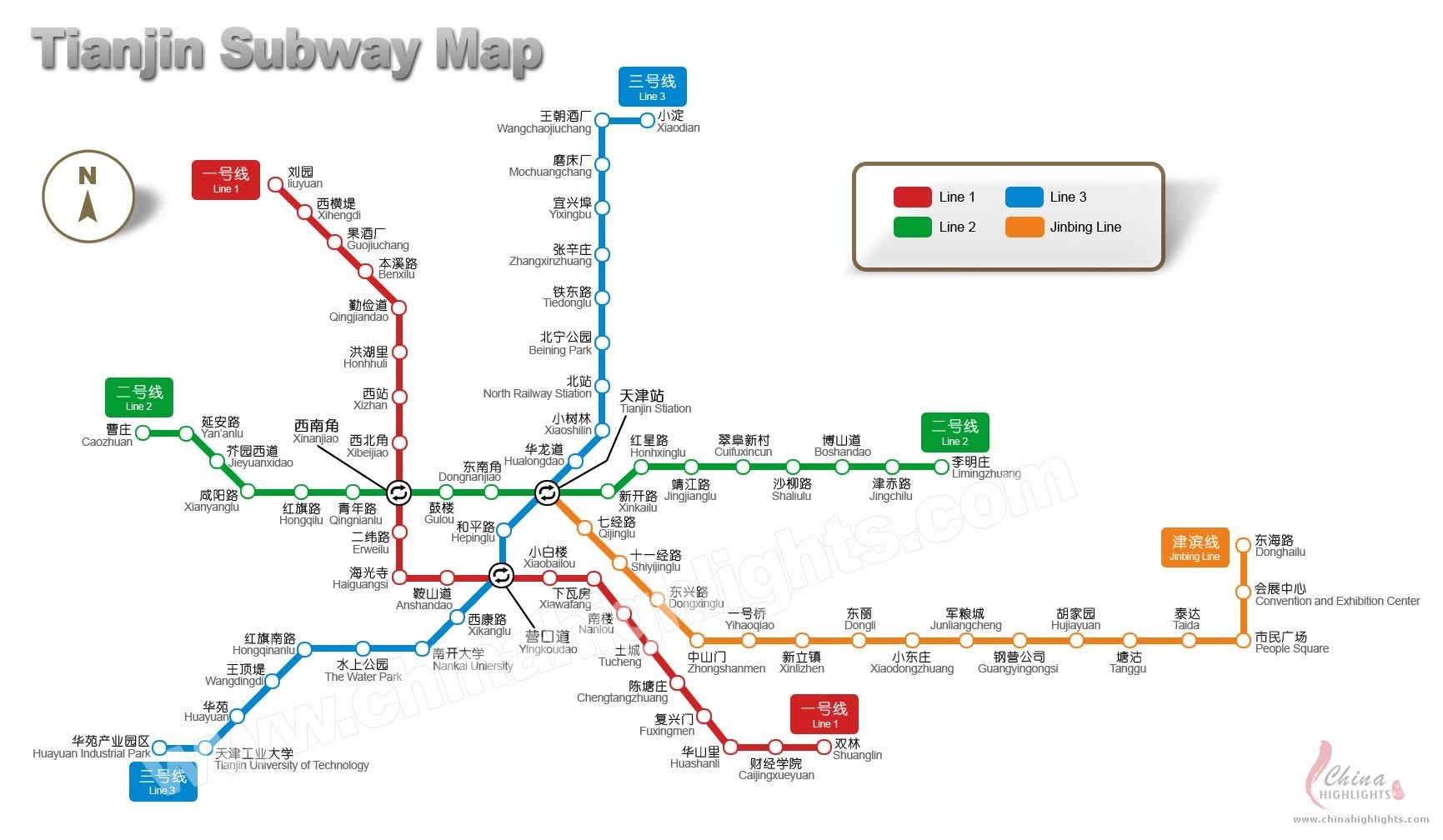 Questions and Answers About Tianjin Subway Map
eleanor
2014-02-08
Show Answer
Is there any subway line going between Tianjin city to Binhai Airport? Thanks.
Hi Eleanor,
The subway from Tianjin city to Binhai airport is under construction at the moment, you'd better take a taxi or shuttl bus.
Regards,
Cecilia
Cecilia Peng replied on 2014-02-08
hi Cecilia, thanks for taking the time to reply. Maybe it will be finished when I arrive. guest replied on 2014-02-12
Hi Eleanor, I hope so! Good luck! Regards, Cecilia Cecilia Peng replied on 2014-02-12
mark
2013-07-29
Show Answer
How do i get to dongli lake happy valley from teda?
Dear Mark, You could take No. 515 bus from Teda Central Hotel station(泰达中心酒店站) to Wanke City station( 万科城站) where is near Dongli Lake happy valley. Lussie Lu replied on 2013-07-29
Heather
2013-06-07
Show Answer
Hi, what is the best way to reach Tianjin South Railway station? There appears to be no metro!
Hi Heather, taxi is suggested.
Whitney Liao replied on 2013-06-07
April Offer $25 Coupon
Send your inquiry before Apr. 30, 2014, and we will email you a $25 coupon.
The coupon is valid till Dec. 31, 2014, for paying tour packages worth $250 or up.
The coupon cannot be used for paying flight tickets, train tickets, hotel rooms and day trips.
Travel Advice or Question? Ask us here

China Highlights
Tianjin Travel Guide