Tianjin Subway Map
This Tianjin subway map shows Tianjin's four subway lines in an easy-to-follow diagram, with color-coded lines and station names in both English and Chinese characters.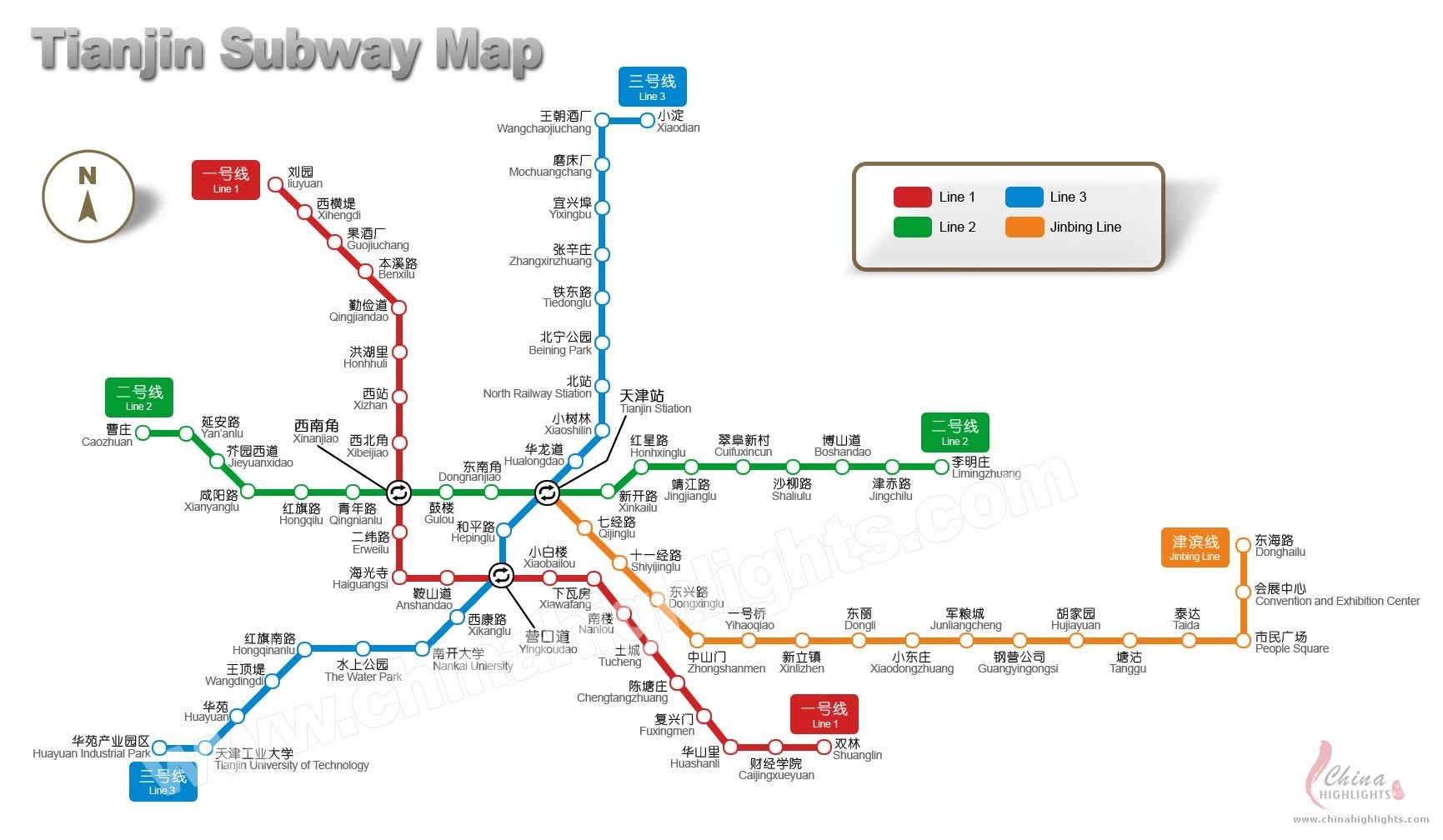 China Highlights
Planning a trip? Ask us here 800-2682918 (USA & CA)
86-773-2831999 (Int'l)
Q:
mark
Asked on 2013-07-29
Reply
How do i get to dongli lake happy valley from teda?
Dear Mark, You could take No. 515 bus from Teda Central Hotel station(泰达中心酒店站) to Wanke City station( 万科城站) where is near Dongli Lake happy valley. Lussie Lu Replied on 2013-07-29
Q:
Heather
Asked on 2013-06-07
Reply
Hi, what is the best way to reach Tianjin South Railway station? There appears to be no metro!
Hi Heather, taxi is suggested.
Whitney Liao Replied on 2013-06-07
Q:
Usun
Asked on 2012-07-06
Reply
Can you guide me to this address, assuming start of point is Beijing Airport. Renaissance Tianjin Lakeview Hotel 16 Bin Shui Road,He Xi District, Tianjin, 300061 China
Hi Usun, you can take bus at Gate3 Terminal 3, Beijing Capital Airport to Tianjin Tianhuan Coach Station first. The price is CNY80. It takes about 3hrs. Then take a taxi to your hotel. Your hotel name and address in Chinese are万丽天津宾馆and天津市河西区宾水道16号. Just show the name and address to the driver, he/she will take you there. Have a nice day! Whitney Liao Replied on 2012-07-06
Q:
sheta
Asked on 2012-06-21
Reply
i am looking for that address : 16 Cuiming Road, YAT-SEN Scientific Industrial Park, Tianjin Economic Technological Development Area, Tianjin, China 301726
Dear Shta, do you mean that you are wondering how to get there? I can give you the Chinese version of this address: 中国天津市天津经济技术开发区中山科学工业园翠明路16号, then you can take a taxi to there. Lynn Ye Replied on 2012-06-25
Tianjin Travel Guide