Sacred Mountains and Lakes in Tibet
For the people of Tibet religion is highly important, and has a deep influence over all aspects of their lives. The dominant religion there is Tibetan Buddhism. Tibetan people worship snow-capped mountains, lakes and the color white. They believe that in snowy areas there is divinity in every mountain and a dragon in each lake, and that even the rocks have a spirit. They think that by circling around the sacred mountains and lakes, their sins can be cleansed and hopefully they can reach nirvana. For them, pilgrimage is the journey from ignorance to enlightenment. Because of this belief, pilgrims can be seen throughout the year circling around the sacred mountains and lakes. While on pilgrimage, most of them walk, but there are some pilgrims who are so devoted that they prostrate themselves at intervals along the way. They chant their prayers while walking and prostrating themselves. A pilgrimage takes scores of days, some even longer than a year.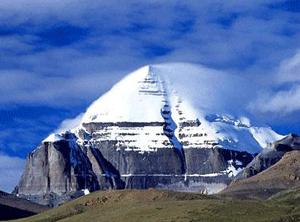 Mount Kailash, the center of the world for Hinduism, Tibetan Buddhism, Bon and Jainism religions
Mount Kailash
Also called Kangrinboqê, Mount Kailash (冈仁波齐 Gangrenboqi /gung-rnn-bor-chee/) is the sacred mountain and the center of the world for four religions: Hinduism, Tibetan Buddhism, B?n and Jainism. It lies near Lake Manasarovar, a sacred lake. With an elevation of 6,638 m (21,778 ft), Mount Kailash is the main peak of the Gangdisê Mountains. It is snow-capped all year round, wreathed by a sea of clouds and fog, with its unique shape like a pyramid on the mountain top, Mount Kailash looks magnificent and unconquerable under sunshine. For centuries, it has been a Mecca for pilgrims. Every year, countless pilgrims from India, Nepal, Bhutan and all over Tibet go there to show their devotion. While for adventurers, Mount Kailash remains an insurmountable peak.
Lake Manasarovar
Lake Manasarovar (玛旁雍措 Mapangyongcuo /mah-pung-yong-tswaw) is the highest freshwater lake in the world at an altitude of 4,588 m (15,052 ft). In Tibetan, "Manasarovar" means "the Immortal Lake of Jade". It is the most sacred lake for Tibetans, and pilgrims deem it a most blessed thing to circle around and bathe in the lake. Lake Manasarovar is the source of four great rivers in Asia, namely the Indus, the Sutlej, the Karnali and the Brahmaputra. The circumference of the lake is about 60 kilometers (37 miles), and it takes about 4 or 5 days to circle clockwise around the lake.
Mount Nojin Kangsang
Mount Nojin Kangsang (乃钦康桑 Naiqinkangsang /neye-chin-kung-sung/) stands tall with an elevation of 7,191 m (23,592 ft) between Gyantze County and Nagarzê County, with several snow-capped mountains over 6,000 m (19,685 ft) surrounding it. It is located near Yamdrok Lake, another sacred lake. Mount Nojin Kangsang is the most accessible glacier site on the Tibetan Plateau. The famous Kharola Glacier (elevation 5,560 m or 18,241 ft) is below the south ridge of Nojin Kangsang. Nojin Kangsang was first climbed in 1986 by a Chinese team from the south, though now most adventures ascend it from the east, which is easier and does not present major difficulties and dangers.
Lake Yamdrok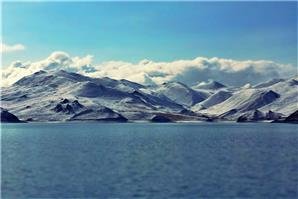 Lake Yamdrok, the Lake of Swans
Lake Yamdrok (羊卓雍措 Yangzhuoyongcuo /yung-jwaw-yong-tswaw) is surrounded by numerous snow-capped mountains and has a power station at its western end which is considered to be the highest in the world. The lake is fan-shaped, and is around 72 km (45 miles) long. In Tibetan Yamdrok means "the Lake of Swans". Tourists and pilgrims can be seen walking or prostrating themselves along the lake's perimeter. On a steep mountain slope southwest of the lake lies Samding Monastery, which is the only Tibetan Monastery headed by a living female Lama.
Nyainqêntanglha Peak
Nyainqêntanglha (念青唐古拉 Nianqingtanggula /nyen-ching-tung-goo-lah/) Peak is the highest peak (7,111 m or 23,330 ft) of the Nyainqêntanglha Mountains. Meaning "the God of Grassland", Nyainqêntanglha Peak is the watershed between the Yarlung Zangbo River and the Nu River (the Salween), and is the subject of much Tibetan folklore and myths. It is located near Lake Namtso, one of Tibet's sacred lakes. South of Nyainqêntanglha Peak is the picturesque Yambajan, which is famous for its geothermal resources, including the largest hydrothermal power plant in China, and hot springs.
Namtso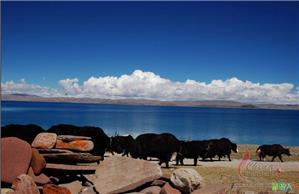 Lake Namtso, Heavenly Lake in Tibetan
With an elevation of 4,718 meters (15,479 ft), Lake Namtso (纳木措 Namucuo /nah-moo-tswaw/) is the highest salt water lake in the world, and the largest salt water lake in Tibet. Lake Namsto means "Heavenly Lake" in Tibetan. The color of the lake is all kinds of blue: deep, grayish or light, integrating with the usually clear sky, and creating a dreamlike view. There are four monasteries at the four compass points of the lake, and on the walls of these monasteries there are many rocky Buddhist artifacts carved out by nature. Lake Namtso is said to be the mother of Nyainqêntanglha Peak.
Related Links
Questions and Answers About Sacred Mountains and Lakes in Tibet
April Offer $25 Coupon
Send your inquiry before Apr. 30, 2014, and we will email you a $25 coupon.
The coupon is valid till Dec. 31, 2014, for paying tour packages worth $250 or up.
The coupon cannot be used for paying flight tickets, train tickets, hotel rooms and day trips.
Travel Advice or Question? Ask us here

China Highlights